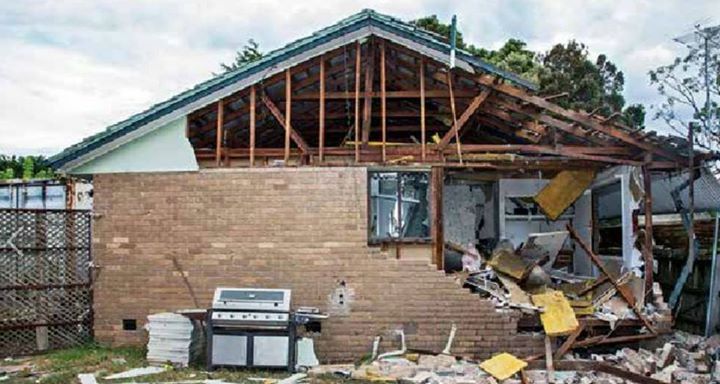 On the 7th of January of this year, a hot water unit exploded in Frankston VIC, partially destroying a house with the explosion being heard 2km away. The occupant of the house had tampered with the gas hot water unit by replacing a leaking temperature relief valve with a standard tap fitting. This DIY fix up turned out to be a major stuff up and could have killed someone. The pressure in the hot water unit forced the hot water unit to explode and the case of the unit travelled 100m in the air and landed on a nearby street. Thank goodness no one was hurt but the house had extensive damage and the occupant was given criminal charges by the Victorian Police for tampering with a gas appliance and doing unlicensed work. This is just one of many examples of what can happen when an unlicensed person does their own DIY plumbing or electrical work.
It's with this incident in mind, that I was horrified to see Masters advertise "Quickie hot water installation kits" showing and giving you everything you need to know to install your own hot water unit.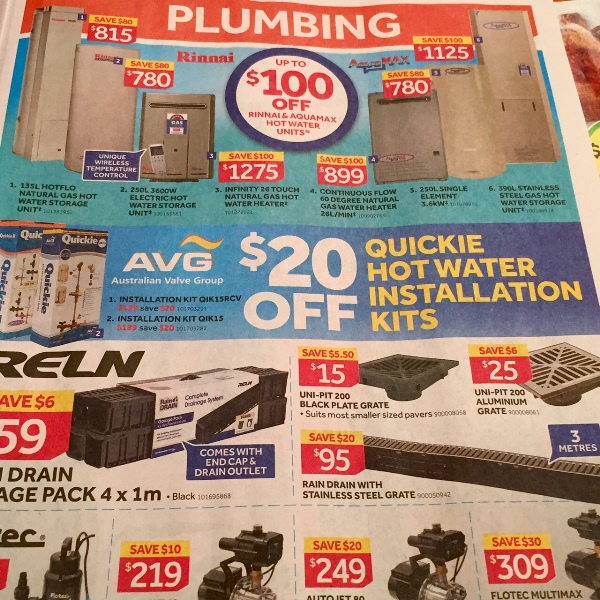 The thing is, I've known about this issue of plumbing and hardware stores selling plumbing fittings to unlicensed persons for a while now, but I didn't realise how bad it had become.
A blogging friend of mine, Holly from Simplify Create Inspire did point out that when she and her husband bought their hot water unit from Masters two weeks ago, they were advised to purchase this kit to save money on the install as the plumber would charge more for a similar valve kit. At no time did the staff at Masters suggest it was a DIY job for their install. Which is great to know, but I have no doubt that people will nod their head in agreement and go on to try and do the installation themselves. If the can buy the fittings, what's stopping them from installing them too?
Back on the 7th January – yep same date as the explosion of the hot water unit in Frankston (this kind of freaked me out when I realized the same dates) I was stuck on the couch breastfeeding Phoebe when a friend of mine messaged me because her hose tap wouldn't turn off. She wanted to know what to do and if I could go and fix it for her. I knew the hose tap would need to be replaced, but I was stuck at home with my three girls, with one tightly attached to my boob. After making a few calls to my dad and other plumbers, I was unable to get any of my plumbing mates to help her out (most were still on Christmas/New Years holidays). So I decided to guide her myself by explaining the washer in the tap must have been shredded and she would need to replace the washer as a temporary fix until a plumber could come and replace the hose tap.
I knew my advice wasn't putting my friend into any danger of breaking laws because it is legal to change washers, however, I do encourage to use a plumber when doing simple jobs like this because the tap may need to be reseated. Hose taps are a little different though as usually they can be quite corroded and it's just better to replace the hose tap for a couple of extra dollars.
My friend headed to Masters to get herself a washer and she was told to buy a new hose tap and sent me this message.
I sighed and said, yes the Masters guy was right, however, there was no vacuum breaker on the hose tap and replacing the hose tap should be done by a plumber, hence why I suggested getting a washer.
I didn't hear back from her all day, until she called our old office line and my dad ended up going out to replace the hose tap. Unfortunately the water to the house wouldn't turn off from the water meter, which meant the hose tap was running full bore so dad had to replace the hose tap under pressure. He also installed a vacuum breaker. After that debacle I made a note to explain to friends and older clients to find a plumber while on maternity leave –  even for the most simplest of jobs rather than have me explain over the phone or Facebook.
A couple of months ago, I noticed our back hose tap had a drip on it so I thought I would head to Masters 'undercover' and purchase a new hose tap. Jacob had to get some gardening supplies and we wanted to check out the new Masters that had opened up a couple of suburbs away from us. I headed to the plumbing fittings section and started looking at the hose taps and then I faltered because I couldn't remember if I needed a male or female hose tap (the difference is determined by the opening at the base of the hose tap, does the water pipe need to screw into the hose tap or does the hose tap have to screw into the water line?) A male customer service rep came and asked
'What do you need help with, love?'
To which I replied, I couldn't remember if I needed a male or female hose tap. He asked me how old my house was and if the water was coming out of the brick wall and he promptly told me I would need a female hose tap. I was impressed with his logic and he was right. I did need a female hose tap. I then asked where they kept the vacuum breakers and this was where the conversation got interesting.
The customer service rep told me 'love, you won't want one of those. They are dearer than the hose tap.' I shrugged and told him I wanted one. He showed me where they had them and off I went to pay for them.
Admittedly, the customer service rep was trying to be helpful to 'save me money', but he actually gave advice which was against plumbing by-laws. You MUST have a vacuum breaker on a hose tap on the main water supply because it is a plumbing by-law (AS3500 page 22 4.4.3 if you want to look it up). Vacuum breaker valves are a backflow prevention device which stops polluted backwater to siphon through to the drinking water supply. To be clear, if you spray your grass with a fertilizer, and use a sprinkler, the sprinkler can siphon (suck back) the fertilizer through to the hose tap back into everyone's drinking water supply. The vacuum breaker stops the backflow of any water going through the hose tap.
Masters is not the only hardware store giving DIY advice to unlicensed persons (or even licensed persons like myself). I know Bunnings do it and I have been in other plumbing retailer shops where plumbing fittings have been sold to the unlicensed. I also understand that the staff are trying to be helpful to their customers. But an unlicensed tradesperson, giving advice to the unlicensed needs to stop. And if the customer service person used to be a licensed tradesperson, they need to be very careful about what they share with customers. Just like my blog. I have to be careful by writing what is wrong with a plumbing problem, without showing or explaining fully how to fix it.
Unfortunately, it seems we have to wait for someone to die, before anything is done to prevent unlicensed persons from purchasing plumbing fittings.
The issue is not being stirred because plumbers need more work. The issue is a matter of health and safety for the community. DIY plumbing installations can have a fatal effect on everyone. Quickie Installs can turn into Quick Fatalities. This is the danger of selling plumbing fittings to the unlicensed.
Retail stores like Masters and Bunnings can play a major part in preventing DIY unlicensed trade work by simply creating a store policy for all plumbing (and electrical) fittings to be purchased by licensed persons. No license, no fittings. Manufacturers and retail stores would not see a decline in business, as plumbers would still need to come in to purchase said fittings when doing the work. The handling would simply change, ensuring the fittings would be purchased by the right hands.
What do you think? Should our retail stores stop selling fittings to the unlicensed? Have you ever tried to fix a plumbing problem yourself and failed? Do you enjoy shopping at home hardware stores like Masters and Bunnings? And for the record, I do enjoy shopping at Masters and Bunnings, I just wish the plumbing fittings were exclusively sold to people like myself who have a plumbing license. I usually purchase my fittings from Tradelink or Reece, however they too have the same policy of selling fittings to the unlicensed.