With bathrooms becoming a place of retreat, than a place to 'wash and leave', taps and fixtures that offer a 'spa' like experience are highly sought. One luxurious fixture is the ceiling mounted rain shower head. What's not to love about a shower head that simulates rain? It sounds relaxing and extravagant. But more and more designers and home owners are enticed by this shower head style for their bathrooms. Here are some things to consider about the installation of this type of shower head.
1. You need to have the right amount of space for a ceiling mounted rain shower head.
Rain shower heads have a larger diameter and are much wider than a standard, all-directional shower head. This means, you need to ensure your shower space is wide enough to allow the spray of water.
If you are opting for a shower head above a freestanding bath, consider design options on keeping the water from being sprayed throughout the bathroom. A smaller rain shower head may need to be considered, instead of a larger rainhead.
2. Be wise about the placement of your rain shower head.
This comes down to personal preference, but a rain shower head tends to be ceiling mounted and the direction of spray can cover a large area. This means, a person standing in the shower will be directly under the flow of water, the whole time they shower.
Unlike an all-directional shower rose, a person can move out of the stream of water to wash their hair or even be able to keep their head from getting wet, yet still remain under the flow . When using only a rain shower head, one has to move out of the flow of water to wash. This all comes down to preference. I recommend a hand shower is installed as well for more choice.
3. Rain shower heads are expensive.
Rain shower heads are an extravagant purchase. Some heads retail from $500. You will want to make sure you are happy with your shower head to invest the money for the purchase and installation.
4. Different shapes and colours can be installed.
Rain shower heads can come in different sizes and shapes. They can also come as matte black or chrome. You want your rain shower head to work with the existing shapes in your bathroom, so if you've chosen angular fittings, choose a square or rectangle rainhead and vice versa for circular shapes.
5. Rain shower heads won't give as good water pressure as a standard shower head.
I've used a few rain shower heads in hotels and they do offer good pressure, but not as good as a standard shower head. The benefit of a rain shower head is more water flows over the body as it has a wider area of flow. That alone offers enough water to remove soap suds and feel clean. Some models have jets that can direct the flow. Each model of rain shower head will be different. Talk to your supplier to ensure you get the flow you want.
6. Check what fittings it comes with.
When you buy your ceiling mounted rain shower head, ensure you purchase the ceiling dropper as they don't always come with the shower head. Check with your plumbing supplier on what your shower head comes with.
Here are some quality rain shower heads to consider if you are wanting this type of shower to be installed.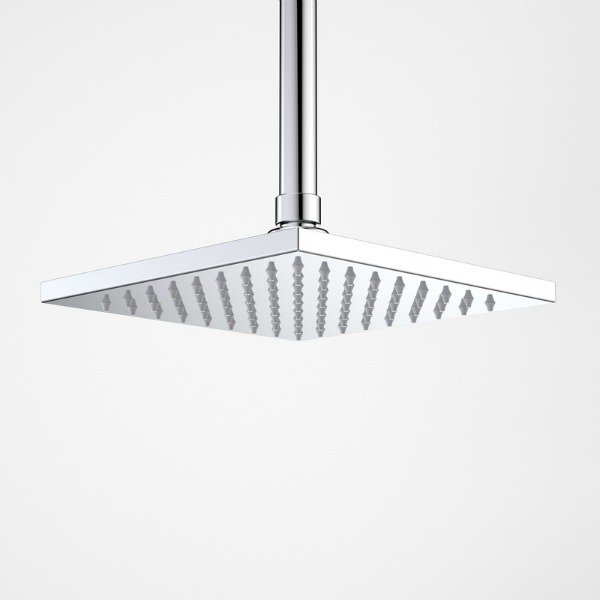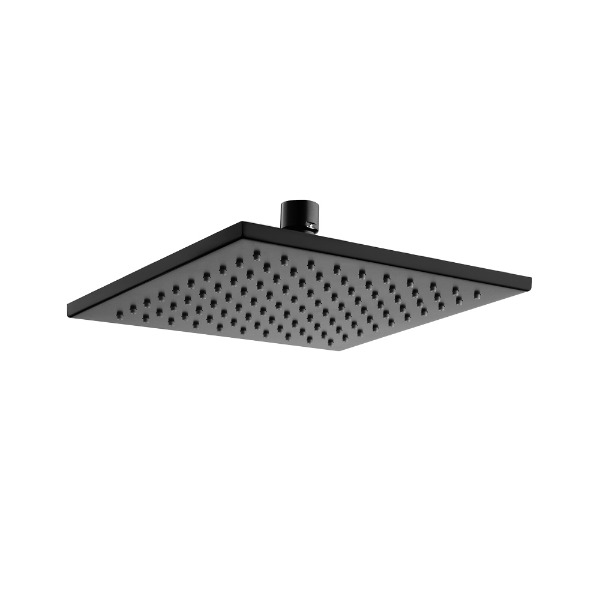 What do you think about a ceiling mounted rain shower head? Something you'd consider for your next bathroom?