Back in February, I noticed, well Jacob made me aware, that our next door neighbor's Lilly Pilly hedge was growing over the top of the side of our fence. It was so big, it was shading our vegetable garden, which required much needed sunlight.
The hedge was so thick and high, I knew it's leaves and fruit would disperse into our gutters. Which is not ideal when I don't get a lot of time to clean the gutters as it is.
I knew we needed a pole hedge trimmer that would cut the hedge down so it wouldn't be so high and it could stop shading our vegetable garden. Even though the hedge grew from our neighbors side, I knew they wouldn't have minded us trimming it down as we had communicated about doing so before.
I had written about Ryobi on the blog before and with a bit of research, and a talk to a Ryobi Rep at Bunnings, they had a pole hedge trimmer which would do the job. After an email and some questions to Ryobi, working out which hedge trimmer would be best (petrol, battery, pole or short handle), we were sent this Cordless Pole Hedge Trimmer which uses the Plus One Battery pack. (The batteries can be interchanged between cordless tools in the Ryobi One + range)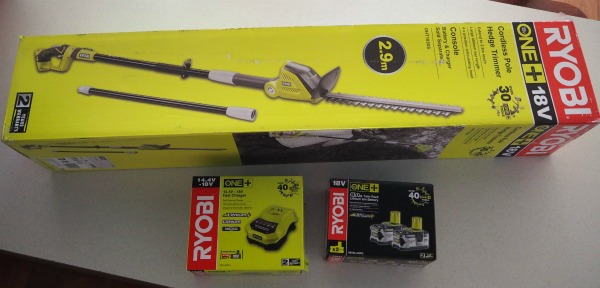 The moment the delivery arrived, I couldn't wait to try it on the outdoor front hedge for a bit of a practice run.
Sometimes I can get a bit ahead of myself wanting to try something new, so it was just as well Jacob reminded me about safety and my need of personal protective gear. Good point my dear husband!
I came back with my safety glasses which have been gathering dust since the last time I used them and got down – or rather up – to business.
It was so much fun. Although Jacob had to give me pointers to cut in a straight line!
I loved that there was no need for a ladder as the pole is 2.8m long. It was easy enough to lift and handle to get the job done.
As the afternoon light started to disappear, we decided to leave the hedge over the vegetable garden for another day, when the sun would be brighter and Jacob could take better pictures. (I still trimmed a little but not much.)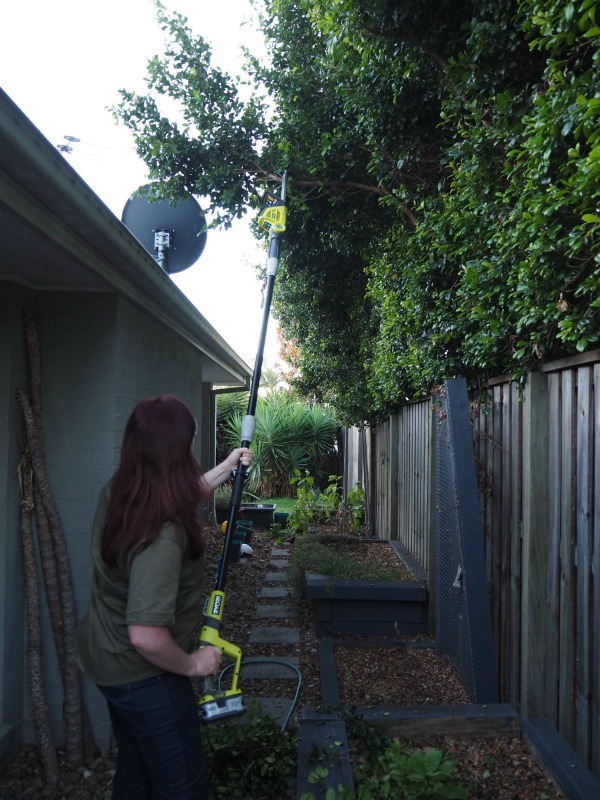 Well that afternoon never came. The following weekend we had rain, then the following weekend I was sick and it seemed I just couldn't get out to trim that hedge.
We made plans to cut the hedge on a Sunday afternoon after everyone had naps. We went to church that Sunday morning and came back to see our neighbors had cut down the whole hedge.
I won't share what choice words I said (I said them laughingly). While I was incredibly grateful the hedge had been cut down… how the heck was I going to do my review?!
Of course, when I told my dad about my predicament, he was the first to put his hand up and say he'd be happy to watch me trim the hedges at his place. So I'm tentatively booked to do some gardening work at my parent's house. Which will feel just like old times back on the tools. Dad watching and telling me what to do, while I ignore and joke around, doing my own thing because I'm always right. 😉
The good thing is, the hedge near our vegetable garden will definitely grow back, and now I have the tool to keep the hedge in control from my end of the fence!
Ever gone to do a job, only to find someone has beat you to it? Do you need me to come and trim the hedges at your place? Joking, I charge a very high call out fee! 😉
Disclosure, I was gifted a Ryobi Cordless Pole Hedge Trimmer in exchange for a review. All opinions are my own. Wait for the next review when I head to my dad's place. It will be cutting edge.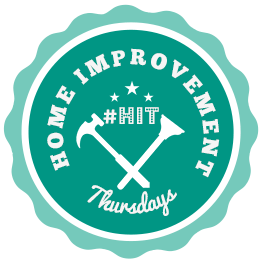 Last week on Home Improvement Thursday we didn't have many linkers. Not sure if the upcoming election is affecting our home improvement motivations? No matter. We still had some great posts link up.
Eva from The Multitasking Woman shared a selection of She Sheds, the ultimate cave for women to respite to.
Charlene from Teacher by Trade, Mother by Nature shared how she culled her picture frames.
Home Improvement Thursday Rules For Linking Up
If you're a DIY, home organization, building, renovation, home makeover, home decorating, home maintenance or trade related blogger we'd LOVE you to link up with us below. Here are the HIT rules for how to link up and what you need to do once you have linked up.
Linkable posts, must centre around the topics of DIY, Renovations, Home Organisation, Home Improvement, Home Makeovers, Home Styling, or Home Maintenance.
You can share 1 post each week. Please make sure they are new to the "Home Improvement Thursday" party.
Linking is simple, find the little blue button at the end of the post that says, Add Your Link, and then pop in your URL, and follow the prompts.
Your link only needs to be added once and it will automatically show up on both of our blogs… it's that easy! Grab our #HIT button and pop it on your sidebar.
Don't forget to share it with others. Follow the blogs of your fellow #HIT family, and leave a comment.
Please visit and comment on at least three blogs that are near you on the list.
Leave a comment on the post below so we can return the favour and comment on your post.
Don't forget to follow The Builder's Wife and The Plumbette.