If you're looking for a septic safe bathroom cleaner that works, you need to know about Dominant cleaning products.
Around a month ago, I was sent a pack of Dominant cleaning products to trial and review. I'd never heard of the brand before because it's based in South Australia and I generally source my cleaning products from the supermarket.
I used to make my own cleaners, but got out of the habit of making them so I kept purchasing cleaners from the supermarket.
I noticed the increase in my grocery bill and wondered whether what I was using was beneficial for my health.
I have used bicarb soda, vinegar and lemon juice in the past, but found in order for them to work, they would need a lot of elbow grease, and the house would smell like vinegar, and I'm not really a fan of the smell.
When I started using the products from Dominant, the smell was the first thing I noticed. It was pleasant, and not overpowering. Cleaning became something I enjoyed, rather than a chore.
I really love the scent of the All Purpose Cleaner. I use this in the kitchen on the benchtops, on my stainless steel stove top, the kitchen sink and in the bathroom on the vanity.
The Glass and Chrome Cleaner works a dream on mirrors, windows, shower doors and chrome taps. It doesn't leave streak marks and easily removes soap spatter and whatever else gets splashed on the mirrors. (Usually it's toothpaste from the kids!)
The toilet cleaner makes my toilet bowl sparkling clean. This cleaner can also be used to make up a bathroom spray as well.
Dominant Offers Septic Safe Bathroom Cleaner
While I don't live on a property with a septic tank, I know many people who read this blog do and they must be careful on which types of cleaners they use in their home to prevent disrupting the good bacteria in the septic system. A large percentage of Dominant cleaning products are septic safe so you can use them to clean your kitchen and bathroom with no worries about causing issues with your septic system.
The products that are septic safe in the Dominant range will have a little swirly logo on the bottle. These are suitable for aerated Envirocycle ® and Biocycle® septic systems.
When you're looking for a septic safe bathroom cleaner you need to look for low alkalinity/mild acidity, non poisonous, no toxic chlorine and is readily biodegradable.
Recycling grey water is another way people are trying to be more efficient with their water supplies, but again, you must check if your laundry product can be dispersed in the garden. Dominant laundry products can be dispersed on the garden via grey water.
There are so many reasons why I like Dominant cleaning products, but one of the things I like most is how many trigger spray bottles can be made from one bottle of concentrate. This is a game changer for me because the products last a long time and will save me money at the supermarket. Plus it's good for the environment, preventing unnecessary waste from going through all those bottles. I find I go through a trigger spray of supermarket cleaner quite quickly and it wouldn't be long before I'd have to get to the shops to get another spray.
Dominant cleaning products can be purchased online. The best way to purchase the products is in a bulk deal. Currently the Cleaning Homecare Pack and Earth Care Pack are 20% off.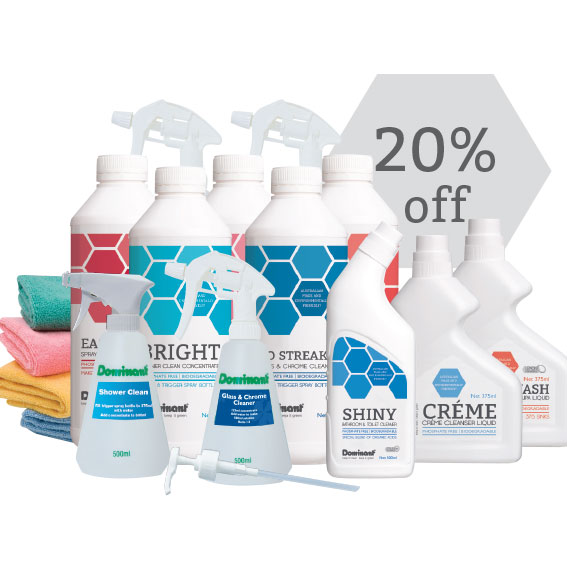 These packs will last you a while and you can see the savings you can make compared to the supermarket branded cleaners. Plus being eco-friendly, you're using cleaners that are better for your health and the environment.
If you're looking for a septic safe bathroom cleaner that works, Dominant cleaning products should definitely be your go to cleaning product.
GIVEAWAY
Dominant are generously offering one reader of The Plumbette to win an amazing Bathroom Mega Prize Pack. This amazing pack includes everything you need to keep your bathroom sparkling clean and your septic tank will love you for it!
Included in this pack is
– Bathroom & Toilet Cleaner 500ml x 3
– Shower Clean 1L
– Shower Cleaner 500ml trigger spray bottle
– Crème Cleanser 375ml
– Mandarin & Orchid Linen & Room Spray 200ml
– Glass & Chrome Cleaner 1L
– Glass & Chrome 500ml trigger spray bottle
– Disinfectant 1L
– Disinfectant 500ml trigger spray bottle
– Sensitive Hands & Shower 1L with pump
– Frangipani & Grapefruit Hands & Shower 500ml
– Everyday Shampoo 500ml
– Everyday Conditioner 500ml
– 4 x Happi Microfibre Cloths
Valued at $220.60 RRP
In order to be in the running for the giveaway, please fill in the rafflecopter and then answer the following question,
Why is eco-friendly cleaning important to you and if you won this pack, how would you spend the money saved from these cleaners?
Terms and Conditions
This is a game of skill. Each valid entry to be judged on creativity and originality, not by chance.
There is 1 prize as detailed above with a RRP $220.60.
Entries open from 12am Brisbane time Tuesday 18 July 2017 to Tuesday 1st August 2017 12am Brisbane Time.
Prizes are not transferable or changeable.
Prize sent out by third parties will not be replaced in the event they are stolen, lost or damaged in transit or virtually.
Entry is leaving an answer to the question and entering the Rafflecopter widget.
A valid email address must be included in your entry. This email will be added to my newsletter, but will never be spammed or sent to third parties.
Entry into any giveaway or competition is deemed acceptance of these Terms and Conditions
Entrants must be Australian residents and aged 18 or over.
The winner will be notified by email and has 3 days to reply and claim the prize. The winner may be announced on Facebook. This giveaway is not endorsed by Facebook.
Disclosure: I was gifted a pack of Dominant cleaning products to review. All opinions are my own. This post has been written in accordance with my disclosure policy.