The Winner is Lisa Gray.
Do you find your kids are inquisitive about taps in the bathroom? My kids are. Even as a 14 month old, my Magdalene likes to swing the gooseneck spout on our bath from side to side. That's why it's so important to watch your kids while they are in the bathroom to keep them safe and prevent an accident.
I was sent the Lindoni Scald Guard Basin mixer manufactured by
Fix-A-Tap Australia
for a review. The mixer has a scald guard technology which means it has a spring loaded cartridge that enables the handle of the mixer tap to flick back to the cold position once it's finished being used in the hot position.
I don't have mixer taps in my house because it was a display house and the designers chose to install the Capstan style hot and cold handle taps. However, when I have done maintenance on bathrooms where a mixer has been installed, it is usually turned off in the hot position – especially in the shower and bath.
The consequence of turning the mixer off in the hot position can mean a child can lift the handle and be hit with hot water. Every household in Australia should have a tempering valve on their hot water unit to ensure that a maximum of 50 degree water is released through the spout but there are some houses that still don't have one installed. This can be catastrophic and illegal if a bathroom has had a renovation and the hot water unit hasn't been upgraded to meet the current plumbing laws.
The idea behind the mixer tap came after Daniel Gadd (Category Manager from Fix a Tap Australia) had a close call with his own three year old son who snuck into the shower while Daniel was shaving. His son was able to reach the mixer handle that had been left off in the hot position. Daniel was able to retrieve his son just in time. It was after this incident that Daniel learned he wasn't the first parent to experience this kind of problem. In fact, approximately 1500 children under 5 years of age are taken to the Emergency Department for the treatment of scalds in NSW alone, thus the Lindoni Scald Guard mixer range was created.
Due to my pregnant state, I got my dad to install the basin mixer into one of his basins at home so that I could try the mixer out for myself. The mixer is solid and was easy for dad to install. (This mixer must be installed by a licensed plumber) The handle works exactly as designed and flicks easily between cold and hot and when I turned the mixer off with the lever still on the hot side, it automatically flicked back to the cold side.
I was able to donate the mixer tap I received to an old client who is opening a family day care center and is in the process of fitting off a new bathroom specifically for the children's use. The new bathroom also has a shower and will be fitted with the Scald Guard shower mixer not only to keep the taps in the bathroom uniform but also to prevent accidents like the above from happening.
The basin mixer won the Australian Design Awards in 2013 for its innovative quality of reducing the risk of scalding to young kids and the elderly. It also can save on gas and electricity bills because it flicks back to the cold water position.
For its design purposes and economical purposes, I recommend all plumbers have a spare Scald Guard basin mixer and sink mixer on their truck for those situations when a mixer needs to be replaced and a client isn't fussed by what it's replaced with. This is the best mixer tap for a young family.
The mixer taps are economical and retail for $75 for the basin mixer and $79 for the sink mixer. The Scald Guard range of mixers are available in all leading hardware stores and from May they will be stocked at all Tradelink stores. They also have a 10 year guarantee which means you are getting a quality product for your dollar.
Give Away Time
Fix-a-Tap Australia have offered one of The Plumbette's readers a fabulous Scald Guard Mixer tap Giveaway worth $154.00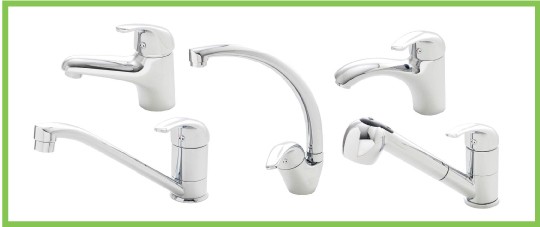 Included in the giveaway is
One Series 1 Lindoni Scald Guard Basin Mixer tap Curved AND 1 Lindoni Scald Guard Sink Mixer in the choice of either Retractable Food Spray, Gooseneck or Standard Spout.
Enter the giveaway via the Rafflecopter form below and leave a comment in the comments section by telling me why you would like to win these mixer taps.
a Rafflecopter giveaway
Disclaimer: I received a Series 1 Scald Guard basin mixer for editorial consideration for this blog post. All opinions are honest and my own.
I'm linking up with Essentially Jess for I Blog on Tuesdays.
Terms and Conditions
These terms shall apply to all giveaways and competitions run on this site, www.theplumbette.com.au
1.            This is a game of skill. Each valid entry to be judged on creativity and originality, not by chance.
2.            There is one prize pack including 1 Series 1 Scald Guard Basin Mixer and your choice of either 1 Series 1 Scald Guard Sink Mixer with Standard Spout, Gooseneck or Retractable Food Spray Spout worth $154.00AUD.
3.            Entries open from Tuesday 29th April 2014 12am Brisbane Time to Friday 9th May 2014 12pm Brisbane Time.
4.            Prize is not transferable or changeable
5.            Prize sent out by Fix-a-Tap Australia will not be replaced in the event it is stolen, lost or damaged in transit.
6.            Additional entries if you share on Facebook or Twitter, but you must comment a second or third valid entry.
7.            A valid email address must be included in your entry.
8.            Entry into any giveaway or competition is deemed acceptance of these Terms and Conditions
9.            Entrants must be Australian residents and aged 18 or over
10.          The winner will be notified by email and has 5 days to reply and claim the prize. The winner will also be announced on Facebook. This giveaway is not endorsed by Facebook.
11.          The decision on the winner is final and no dialogue will be entered into otherwise.
12.          These terms and conditions are subject to change at anytime without notice