A year ago I noticed the downpipe adjacent our kitchen window was dripping more water that it was draining away during a heavy down pour. On closer inspection, I found the downpipe had rusted out and was so brittle I pushed my fingers through it.
Our house is only 11 years old, but the drip corrosion from our roof into the zincalume gutters had caused one to rust out. The whole rectangular downpipe needed to be replaced.
So dad ordered in 3 meters of Colourbond rectangular downpipe, which has been sitting in his garage since last year. It's a miracle he didn't run over it because it had been lying in the garage on the far side where he'd park his ute.
We finally organized to get the downpipe installed on Monday morning. My mum was booked to look after the girls while I helped where I could.
Had the downpipe been PVC, we would have had the job knocked over in an hour, but rectangular downpipe is different. It requires precise measurements and tin snips to cut out and create the angles to follow the outside angles of the house.
Dad arrived promptly at 8am to get started and mum was on her way.
While I was outside, the girls were getting antsy about not being able to get outside. So I asked Jacob to open a window that reaches the floor level so the girls could walk in and out. What I didn't bargain on was the huge ant infestation that spread inside the house and outside the window when said window was opened.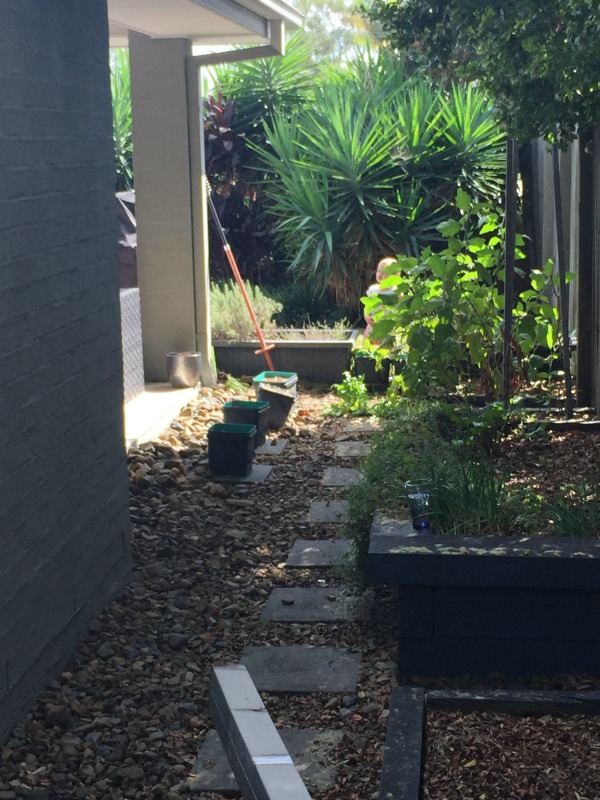 A few sprays of Mortein and the ants were dead but there was a massive mess to clean up and Jacob had to leave to go to work. The buggers got stuck in the window tracks and the space between the windows. In the end I had to vacuum the mess because I would have gone through a roll of paper towel to clean it all up.
By this stage, my mum arrived and the girls were happy to see their grandma. Mum started making pikelets, while I remembered I had washing that had to be hung on the line. Once I got back to helping dad, he admitted he'd stuffed a measurement and would need to redo the bend again which would make the downpipe too short to meet the connection in the ground.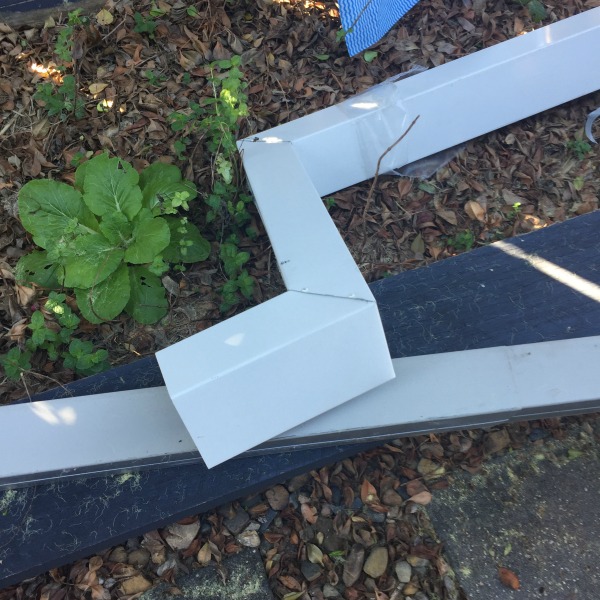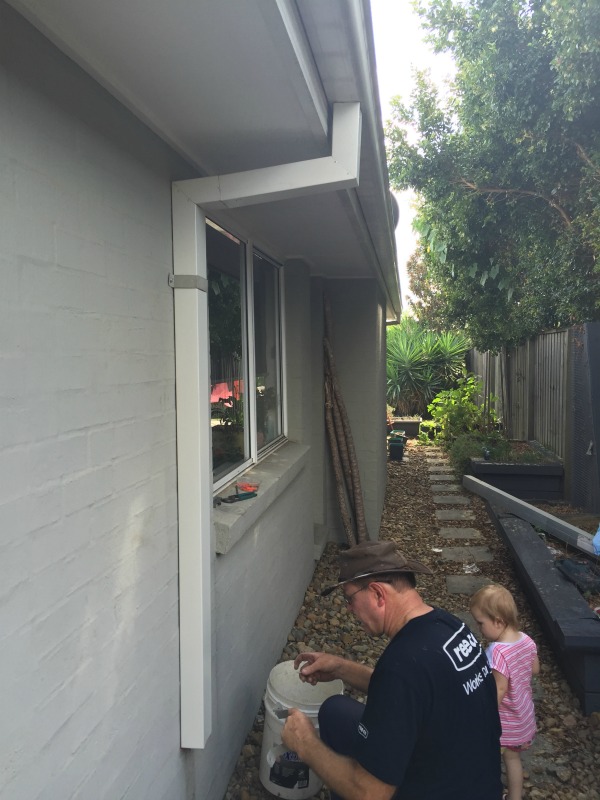 I know how easily done it is to incorrectly measure or not allow for a seam to create the 90 degree angles. I've never been a fan of sheet metal work. I've got too many bad memories from TAFE and too many stories of tradies cutting themselves on the sharp edges. Me included.
While I helped pop rivet the seams on the downpipe, my girls were eager to see what we were doing. Esther admitted she wanted to be a plumber so she could be part of the team.
The downpipe ended up being too short, but we were able to fit in an old piece of the old downpipe to connect it down into the ground should we have rain before a new piece is ordered in.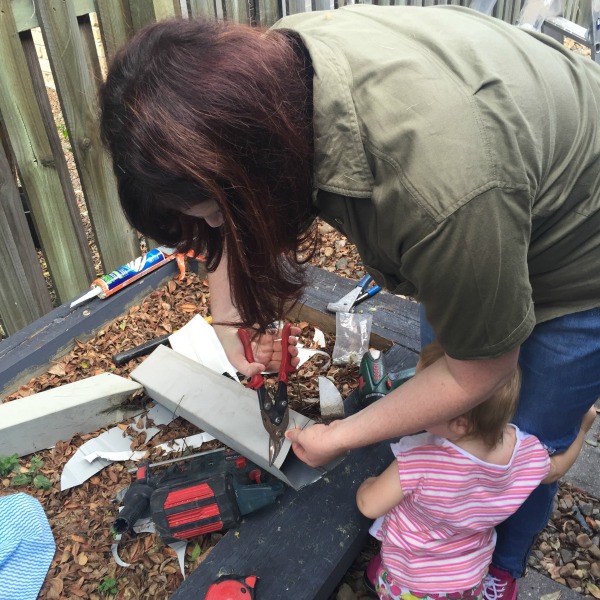 I have another downpipe that has rusted through, so we will be doing it all again. Hopefully we will get it right the second time.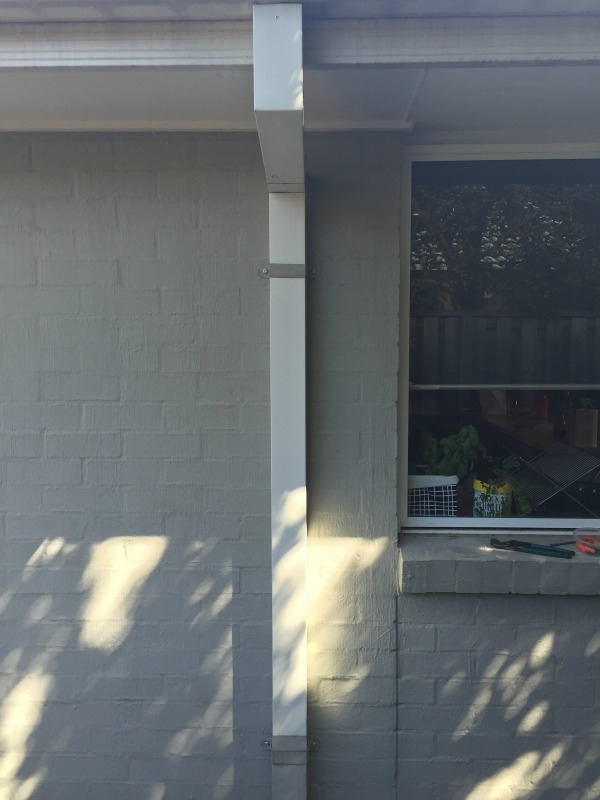 When to Check Your Downpipes
It's important each season to check your downpipes and make sure they are connected from the gutter to the underground stormwater pipe. Gently press the outside of each downpipe to ensure it hasn't rusted or isn't brittle from age. Downpipes that can't direct roof water to the stormwater drains have the potential to cause a flood outside the home, which is not ideal.
Installation and maintenance of downpipes are not jobs limited to licensed plumbers. They can be fixed without a plumber, however check with the local laws at the time as there has been changes to the AS3500 to include stormwater and downpipes as licensed plumbing work only. To be honest, most plumbers are quicker with the installation anyways. If the downpipe is rectangular and made from Colourbond or zincalume, a fair amount of skill will be needed to create the bends and angles. (as you can tell we haven't done this in a while).
I'm glad it's all fixed in time for our next heavy downpour which will be who knows when. Let's hope it won't be another 6 months before we replace the other one.
Do you regularly check your downpipes? Got a downpipe that needs replacing?