Can you remember how you applied for your first job? Or how you were able to source your apprenticeship if you work in a trade? Today, I'm sharing how my dad got his plumbing apprenticeship 40 years ago, with pictures of his letters of acceptance and the plumbing by-laws he used when he went to college.
These days, people secure jobs by searching online and then applying through the relevant contact channels. Gone are the days where jobs were applied by cold calling a company and sending them a letter. Cold calling can still work in your favour, but most companies will have a recruitment agency or a human resources team that conduct job offerings and interviews. Email is the preferred contact for job applications when they're available, and if you're well known enough, you may be headhunted on Linked In.
But back in the 1970's it was different. Very different.
My dad was going through his filing system and found his letter of offer for an apprenticeship from Henry Neylan Pty Ltd. He shared it with me and I wanted to share this history with you.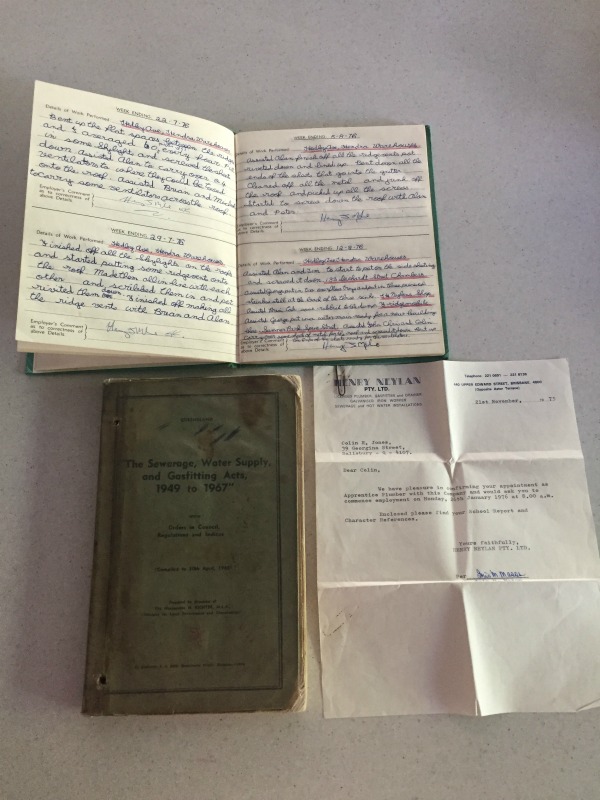 Back in the 70's, letters were typed on typewriters and sent via post when applying for a job. Could you imagine the patience needed to wait for the snail mail to let you know if you had indeed been accepted for an interview or whether you had gotten the job? Maybe Australia Post was more reliable back in those days. Probably less people back then to deliver to as well.
My dad was 15 when he applied for his apprenticeship. He was able to secure a position at Henry Neylan Pty Ltd via my great grandpa Pop's assistance. Pop was the deacon at the City Tabernacle Baptist Church (Wickham Terrace in Brisbane City) and right next door was the Henry Neylan Plumbing office on Upper Edward Street. Pop asked one of the plumbers on site for a business card. This business card was then given to my dad so he could send a letter and his character references for a plumbing apprenticeship.
Dad kept all the correspondence from 1975, even his letter of appointment, where dad would start his plumbing apprenticeship on Monday 26th January 1976 at 8am sharp. Another letter was sent back asking if it were to be Tuesday 27th January 1976, as Monday 26th was the Australia Day Public Holiday. These simple letters reminded me of how email has made contacting each other so much easier and quicker.
When I asked dad why he chose plumbing, he told me he was given good guidance by his parents and those offering apprenticeships back in the day.
My grandpa took my dad to an open night at Yeronga TAFE, where dad could find out what apprenticeships were available. After discussing options with those at the open night, dad was advised a plumbing or electrical apprenticeship was the way to go because of a few reasons:
1. It was a licensed trade. People can't DIY a licensed trade.
2. There would be limited overheads to start out if you decided to have a business. You wouldn't need to purchase a warehouse or large machinery to start out. A ute and your tools were all that would be needed.
After the TAFE event, Grandpa told my dad plumbing sounded like the best option for a trade apprenticeship.
Before dad found out if he got a plumbing apprenticeship with Henry Neylan, he was offered a sheet metal working apprenticeship with J Wiley and Co, but the manager asked my dad a crucial question which allowed my dad to make a clear decision on which apprenticeship to take.
The J Wiley & Co manager told my dad that sheet metal workers would be in a shed everyday for the rest of their life doing sheet metal work. But plumbing would allow him to be on a new site everyday and he would get to be out and about. Dad had to be committed to working inside if he were to take on the sheet metal joinery apprenticeship.
It was this question that made dad contact Henry Neylan to find out whether his application for a plumbing apprenticeship had been accepted.
It had and his offer of a position was to be mailed to him. And the rest is history.
Dad also kept his Plumbing Standards "The Sewerage, Water Supply, and Gasfitting Acts, 1949 to 1967". In the book are notes from when dad went to TAFE. When the by-laws changed, he taped in the overriding laws in the book.
When I did my apprenticeship and would use sticky notes to help me reference the by-laws so I could find them quickly, dad said he would do the same when he was at TAFE. I didn't think they had post-it notes back then, but when I got his standards book, there were notes just as he told me.
Of course, the by-laws are no longer a 214 page book, but now come in multiple sections in a 4 ring binding folder. My sticky notes are still in each of the pages from my apprenticeship days, which I completed more than 10 years ago. Gosh how the time flies!
Dad also kept his log book and he used this to work out how long it would take to complete a job. These notes would enable him to estimate in the future and know how to price a job accurately. My log book was significantly bigger –an A4 size and had multiple sections that needed to be completed before I could get my license.
While there are a lot of things that have changed in the last 50 or so years with plumbing, one standard has always remained the same – the necessity for a tradesperson with a plumbing license to conduct any type of plumbing work. It's governed more strictly these days with fines and severe consequences to insurance if work has not been done by the relevant licensed trade.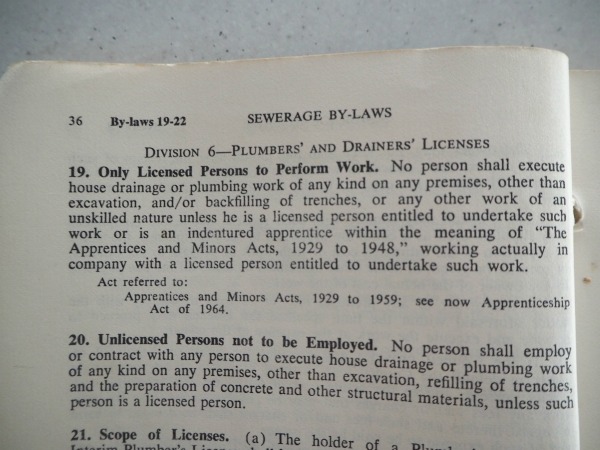 Now, in 2018, it can be difficult to secure a plumbing apprenticeship, but over the coming weeks, I will be updating my posts on who to contact for an apprenticeship. A plumbing apprenticeship is a great career choice – no matter your gender. There are amazing men and women who have started a plumbing trade and have gone on to do incredible things within the industry. You just never know where a plumbing apprenticeship will take you.
I hope you enjoyed this post down memory lane. I'm glad Dad kept these historical documents so I could share them with you. These documents make up part of my story too, which makes them even more special to keep.
Have you kept old letters or books from the past? Do you enjoy history? Got any stories of how previous generations were able to get their first job or plumbing apprenticeship?