My hands have been so dry this winter. I haven't gone anywhere without a tube of hand cream in my bag. Over the last couple of months I've noticed my hands have been really dry with skin flaking off the back of my hands, so I took notice when Tradies Balm started following me on Twitter.
Tradies are notorious for having dry hands: skin with blisters and cuts can be annoying when you're using your hands all day on the tools. Tradies Balm is a solution that will not only heal and soothe dry hands, they can protect them from further moisture loss.
Tradies Balm is an all purpose balm. It's not just for tradies. The balm can be used as a nappy rash cream, over tattoos, over insect bites and even as a lip balm. The balm can also be used to soothe skin conditions like eczema, psoriasis and dermatitis. It's a great balm to have in the first aid kit, in the tool bag and in your nappy bag. It's good for tradie hands and babies bums.
The tradies balm rubs into the skin well and doesn't leave a sticky residue. The key to using this balm is to use it like you would a lip balm but for all over your skin. A small amount goes a long way.
I was sent the 20g tin to sample and after using it for a month, I have plenty left. Right now I have it on as a lip balm.
The best thing about Tradies Balm is that it is chemical free, petroleum free, paraben free, animal product free and has nothing artificial.
To order yourself a tin, head to the Tradies Balm webpage. This would also make a great Father's Day present for a dad who has rough hands. The packaging is very man friendly.
Last week, The Builder's Wife and I launched Home Improvement Thursdays. A big welcome and thank you to everyone who linked up. We are looking forward to growing the community, so feel free to invite blogging friends to join in with the link.
Last week, Aaron from Mayfair Plumbing debunked the myth that plumbers only use eels. He explained why plumbers should use a jett rodding machine to unblock storm water drains. The images show clearly how effective the jett rodders are at unblocking drains. Well worth a read because if you ever ring a plumber to unblock a drain, you can ask them what type of machine they have and have some understanding of what they're talking about.
Sarah from The Routine Queen shared her bedroom make over. I love the fresh colours Sarah used for her linen. Everything ties in beautifully and her overall look is very stylish.
Nicole and I are looking forward to reading your posts for this week's Home Improvement Thursday Linkup. Here are the rules if you want to join in.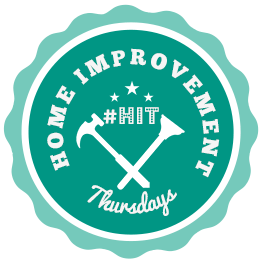 If you're a DIY, home organization, building, renovation, home makeover, home decorating, home maintenance or trade related blogger we'd LOVE you to link up with us below.
Here are the HIT rules for how to link up and what you need to do once you have linked up.
Linkable posts, must centre around the topics of DIY, Renovations, Home Organisation, Home Improvement, Home Makeovers, Home Styling, or Home Maintenance.
You can share 1 post each week. Please make sure they are new to the "Home Improvement Thursday" party.
Linking is simple, find the little blue button at the end of the post that says, Add Your Link, and then pop in your URL, and follow the prompts. Your link only needs to be added once and it will automatically show up on both of our blogs… it's that easy!
Grab our #HIT button and pop it on your sidebar. Don't forget to share it with others.
Follow the blogs of your fellow #HIT family, and leave a comment. Please visit and comment on at least three blogs that are near you on the list.
Leave a comment on the post below so we can return the favour and comment on your post.
Don't forget to follow The Builder's Wife and The Plumbette.