If you have watermarked shower screens and a build up of white stains on your tiles, I'm going to share a product that will help clean them. In today's post, I'm sharing the before and after photos of a product that is readily available from Bunnings, for a temporary fix to remove these marks.
Last November, I noticed a white build up stain on our grey tiles – both inside and just outside our shower. I also noticed our shower screens were becoming cloudy – despite giving them a weekly clean. I knew a buildup of calcium and lime scale is usually unavoidable on shower screens. But for some reason, before Christmas, it started to bug me.
It didn't matter what cleaning products I'd use, it would show up the next time someone had a shower. I wanted a more permanent removal of the stains.
So when I went to Bunnings to buy my kitchen sink plugs, I walked past the cleaning section and purchased a bottle of CLR. I have used CLR before and it didn't do as good a job as I expected on our last shower. But I thought I'd give it another go, for the purpose of this post as it is sworn as a product to use on YouTube when cleaning your shower screen.
What You Need
Gloves
CLR $18.40 from Bunnings
Sponges
Bucket ( I buy my washing powder from Big W in bulk which comes in buckets. I usually buy Radiant of BioZet, depending on which bucket is on sale at the time. I then keep the buckets when they are empty)
Water
How To Use CLR to Clean Shower Screens and Tiles
1. Make sure the bathroom is well ventilated. Open the windows and put on the exhaust fan.
2. Place gloves on.
3. Mix up equal parts of warm water and CLR in the bucket as per the instructions on the back of the bottle.
4. Using the sponge, I dipped it into the CLR and water and scrubbed the shower screens. I left the mixture on for half an hour.
5. I then rinsed the shower using the spray of water from the shower rose.
The CLR worked better than I expected. It didn't fully move all of the calcium deposits or water marks. But it was remarkably better than it was before. It worked better on the tiles.
How to Use CLR to Clean Tiles
(Please use in a conspicuous spot before using on your tiles to ensure it won't remove any coatings or colours)
On the white, stained area of my tiles, I dabbed straight CLR onto a sponge and scrubbed the stains. I left the area for half an hour. I then came back with some paper towel to dry. The stains were removed, although a week later some more deposits came up. I cleaned it again and they haven't shown up since.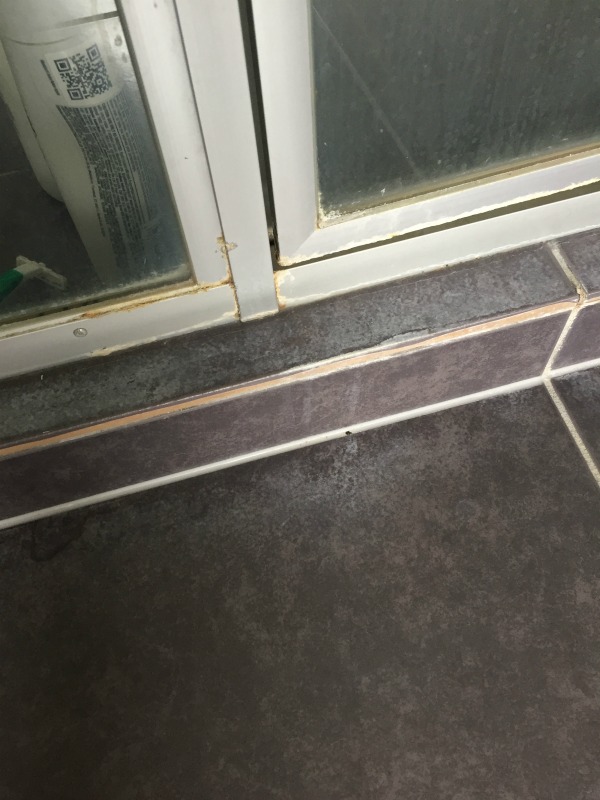 The reason I wanted to show you these results is because if you're like me, sometimes you want to buy something that is easily available and doesn't cost a lot to fix a bugging cleaning issue.
I used to use Vileda Magic to keep my shower screens clean – to prevent a build up of marks, but it's been hard to source of late and if it's not readily available to me, I generally don't remember to buy it.
There are other cleaning products on the market that are promoted to clean shower screens, but I've yet to test them myself. I also haven't found an effective natural cleaner or essential oil that removes watermarks. I will investigate this further though because I'm sure the right oil needs to be discovered to clean our showers.
For the moment, I'm happy with the results of the CLR. I do have another product being shipped to me to see if it will make any more difference.
What do you use to remove the watermarks from you shower screens? Have you used CLR to clean your shower screens and tiles? What else have you used CLR for?
If you enjoyed this post, you might like to read:
Does Lemon Juice Get Rid of Mould?
Why do I Have no Water Coming Through my Shower Head?