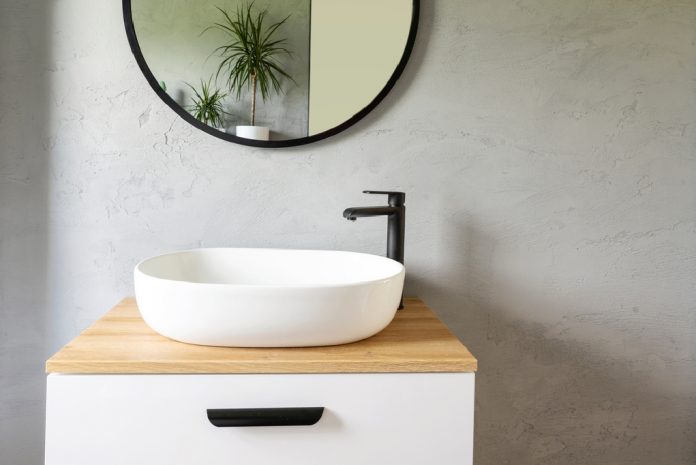 Over the last few years, there has been a growing desire to install coloured basins made from concrete or stone. White basins have been the norm in many bathrooms for good reasons. Reasons I will explain below.
An editor from Houzz recently commented that white basins would be replaced by stone or concrete basins in predicted bathroom trends back in 2018. Since then it has been featured in many bathroom renovations including The Block.
It's a trend which won't wane as it can be a focal feature in the bathroom, injecting some much needed colour. But I think white basins work best in bathrooms. In fact I think white basins trump all other basin styles and colours, and here are some reasons why.
Why White Basins Work Best in The Bathroom
1. Versatile with Coloured Tapware
White basins are versatile with any coloured tapware. Whether you choose, gold, brass, copper, rose gold,  stainless, black or even white taps, a white basin can pull off whatever coloured tapware you choose. Some stones and even black basins, can't carry off coloured tapware as well as a white basin can.
2. Easy to clean
A white ceramic basin is easy to clean. There aren't too many cleaners that will damage the outer surface. Unlike concrete and stone where care must be taken.
3. They require little maintenance
For stone or marble basins, these can crack and require maintenance and in some instances, complete replacement depending on the depth of the fracture.
Cement basins will require resealing as part of a maintenance routine. White ceramic or porcelain basins only require a clean once a week (or more if needed), making it a great basin for those who are busy and don't have time to faff about.
4. Camouflages waste and mess
Think about the colours of the products you use and the colour of bathroom scum. Foamed toothpaste = white, foamed soap = white – generally speaking. A white basin can somewhat camouflage these substances.
If left on a concrete or dark stone basin, not so. Residue and soap scum can give your coloured basin a weathered look if not cleaned after use.
5. Readily available
White basins are generally readily available and come in a range of styles to suit the design of your bathroom and your personal style. Concrete usually has to be made to order and stone basins only come in a small range of styles (and colours) and may be limited in supply. Although demand has changed this of late.
6. White basins are budget friendly
All other basin styles are usually more expensive and often require more thought when mounting and installing them. For example, concrete basins are HEAVY and require appropriate brackets and support.
7. Easy to match with other white fixtures
For uniformity, the basins will match with other fixtures in the bathroom like the toilet and bath.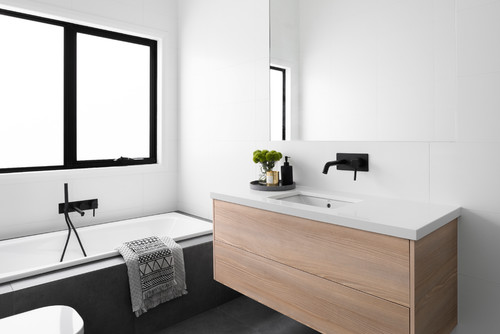 White basins aren't prone as much to scratches or breaks – they can happen, but are rare and can usually be buffed out with a cream cleanser.
Always choose a reputable brand of basin. Purchasing your basin from Reece or Tradelink (in Australia) will ensure your purchase details are kept on file and warranty issues can be sorted if needed.
If you're looking for ways to keep your bathroom budget down, white basins are the way to go.
What kind of basins do you have in your bathroom? Have you ever thought why white basins are the most popular choice in the bathroom?