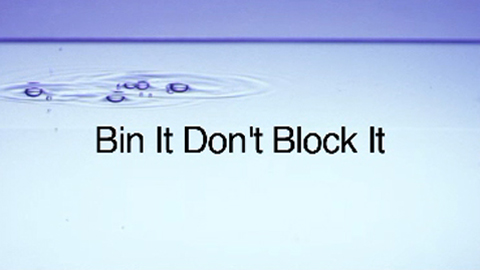 Most female public toilets in Australia have sanitary bins next to the toilet for convenient disposal of pads and tampons.  This is to ensure that they aren't flushed down the toilet. If they are flushed down the toilet, they have the potential to cause blockages and it can be costly to a building manager to call out a plumber to unblock the pipes.
The reason why you shouldn't flush tampons and pads down the toilet is because these items don't disintegrate in the water. They expand when immersed in water and as they travel through a sewer pipe, they can get caught or sit at the bottom of a waste pipe until the next wave of sewerage and water flows through.  Some sewer pipes have roots from trees that have grown in them over time and a blockage is inevitable because everything backs up from the roots in the sewer which means if sanitary items are flushed down the toilet, they will get caught in the roots.
Toilet paper disintegrates in water and so it is safe to be flushed down, providing it's only a few sheets at a time. Toilets can block up from too much toilet paper use too.
So next time you are tempted to flush a pad or tampon down the loo, think again and dispose of it in a bin. Although plumbers are used to fishing out the cause of a blockage, it's not a terribly proud moment for the woman of the house when she gets found out and the evidence is displayed on the grass in front of her.  Bin it, don't block it.
Main Image source