When you've renovated a bathroom or just had a new house built, styling your bathroom is the fun part which happens at the end of the project. But often, after forking out money for the reno/build, there may not be a lot of funds left to style your bathroom. This post offers 5 ways to style your bathroom on a budget. You can swap, change or add things as the funds become available.
5 Ways to Style Your Bathroom on a Budget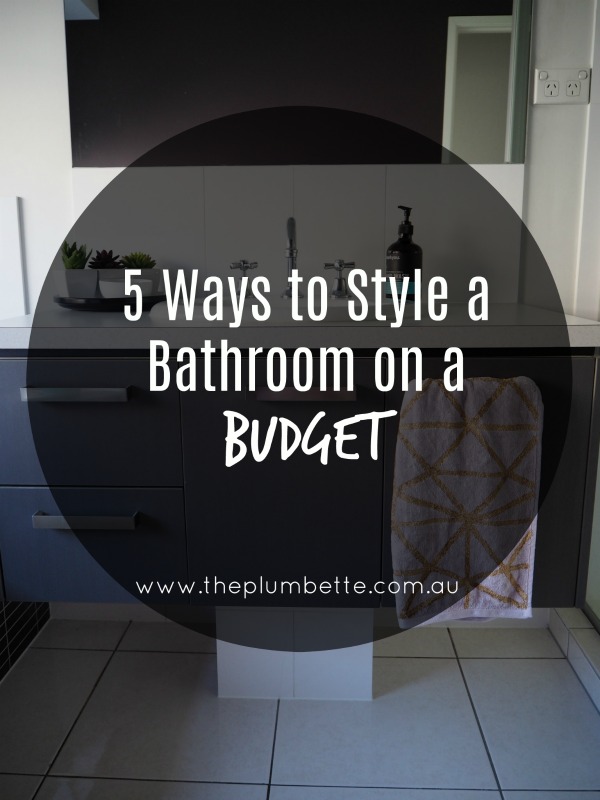 1. Give it a good clean
Before spending a cent of your hard earned cash on accessories, give the bathroom a good clean from top to bottom.
Even newly renovated bathrooms require a good clean to remove plaster dust and general footprints and fingerprints from tradies installing the final touches.
Start from the bathroom ceiling and work your way down including the exhaust fan, lighting, tiles and grout, tap fittings, exterior windows (inside and out), vanity mirrors and inside your drawers.
If your bathroom hasn't been renovated, cleaning is still the first step. Remove mildew and give everything a good scrub. Micro fibre cloths can be great for coloured tapware. Get that shower glass door as see through as possible. It may not be completely transparent. There are tips on this post on how to remove water marks and calcium build up on tiles and glass doors.
2. Accent with natural furniture and accessories
Natural furniture can ground a bathroom instantaneously. It can create a sense of cosiness, comfort and practicality. Ways to do this include adding a timber stool, cane basket, bamboo bath caddy – anything timber will ground your bathroom.
3. Appease all your senses
Bathrooms have become a sanctuary and are often used as a way to escape the outside world. Appease your senses by adding plants, fresh flowers, candles or aromatherapy oils to the space.
Make your own air freshener to create your own signature scent in the bathroom. Adding sensory experiences in your bathroom will elevate the bathroom styling instantly.
4. Keep vanity benches clear
Sounds crazy to keep vanity benches clear when this post is specifically about styling a bathroom, but the key to styling a bathroom is having a spot for everything. This will ensure the pieces you have on show will be the focus…not the shaggy toothbrush sitting in a cup on display.
Utilise the vanity cupboards and integrated shelving to keep all hygiene products hidden. By all means put handwash in a gorgeous dispenser – or buy one and refill as needed.
5. Put quality linen on display
Quality towels can elevate a bathroom and create a sense of opulence. Hang a bathrobe or some new towels on rails and hooks to give a homely, lived-in look to your bathroom.
Most importantly, make sure they're practically located for stepping out of the shower or bath and their colours compliment your room scheme. Bright or geometric patterns may be ideal to introduce interest to a neutral bathroom scheme.
What tips can you give on styling a bathroom on a budget? Which of these tips will you be trying with your own space?