This tween girl bedroom update is a project we tackled last year in October, but I just haven't had time to share it on the blog.
Like most parents around the country, I often get frustrated with the state of my kids' bedrooms. I do like to see them tidied at the end of the day, where everything has its place.
Tween Girl Bedroom
Esther is officially a tween now, and we needed to update her bedroom to remove some of the clutter. More specifically the soft toy and beanie boo clutter.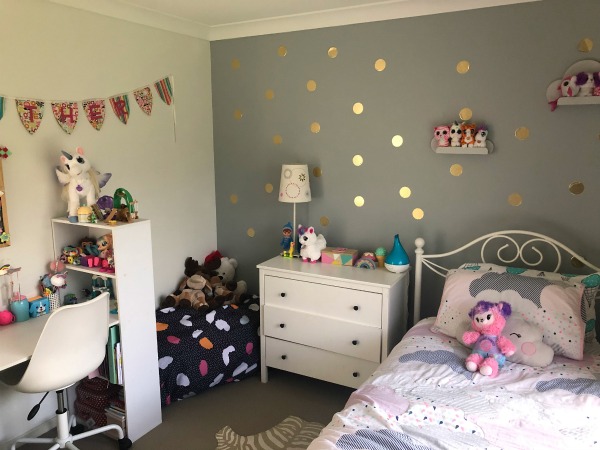 We are overflowing with stuffed toys, and the only solution I've come up with this problem is to fill a beanbag with the 100 or so soft toys the girls have received since they were born.
That beanbag is going to become a toy time capsule of sorts one day, when the contents is emptied and memories flood back around Hoot the Owl and whatever other beloved characters I've stuffed inside.
We bought a new white chest of drawers from IKEA, plus a plant and a lamp. The plant sits perfectly inside the lamp base. I don't think that's the purpose of the base, but it works well because the lamp itself is quite light in weight.
I also wrapped copper wired lights around Esther's noticeboard. She loves putting this on at night and for less that $5, it was an affordable update to make.
A bit of decluttering, some storage hacks and a few new pieces helped make Esther's room feel less messy. Minimalism is the key to a tidy dresser I think.

Sadly minimalism is not embraced by the younger sister as Esther's discarded toys ended up relocating to a new room.
Phoebe had open arms for all the new goodies her sister no longer wanted. We were going to donate to charity, but Phoebe insisted on new ownership. At least the toys are getting played with a second time around!
Do you go through your kids bedrooms often? Are you overflowing with soft toys too?