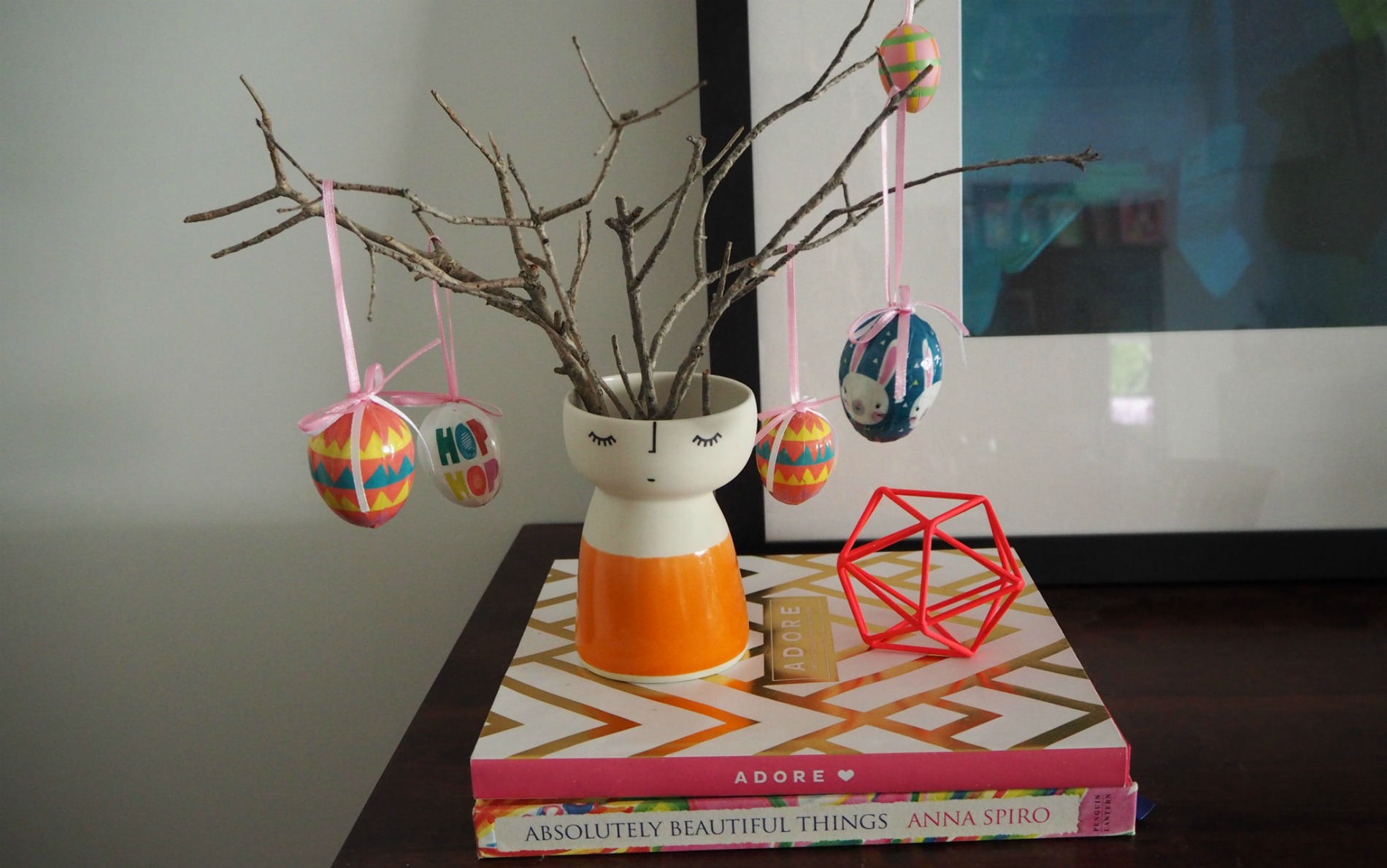 With Easter being a month away, I like to add a few Easter bits and pieces to the house to change the décor up and get the kids excited about the new season. Over the years, I have bought decorations and they are the same pieces I bring out each year. This year, I wanted to create a dedicated Easter centerpiece and so I went on Pinterest to get some inspiration.
I used the decorations I already owned, a Kmart bamboo tray (which I use to serve cob loaf), some lone sticks from the front yard and purchased some astro turf from Bunnings (1 sheet is $19.95) to go about my decorating.

Easy Easter Centerpiece
I love a runner on the table, but the reality is, when kids eat at the table, usually whatever is in the middle of the table is put on the kitchen bench to avoid it getting covered in food. That's why I always use a plastic tablecloth on the table. It makes life easier when cleaning after meals.
So I needed my centerpiece to be easy to transport. So no runners or a million decorative pieces displayed in the middle of the table. The decorations had to be contained on the platter for easy removal.
I wanted to lay the artificial turf in the middle of my tray, so used the platter as a template and went to cut the artificial turf. Use sharp scissors for this exercise.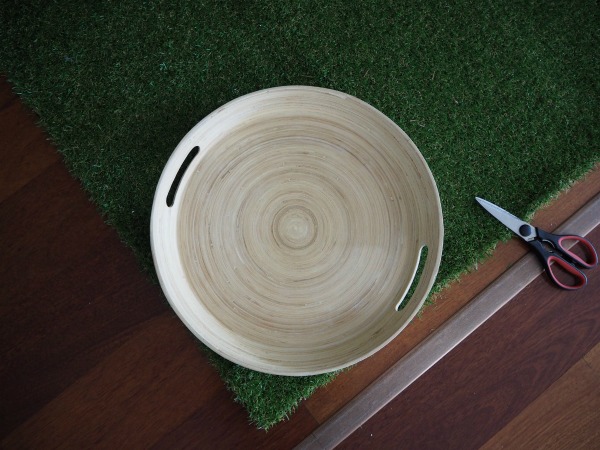 Once the artificial turf in is your platter, you can experiment with what you put in it.
Here are some of the centerpieces I came up with, using what I already owned.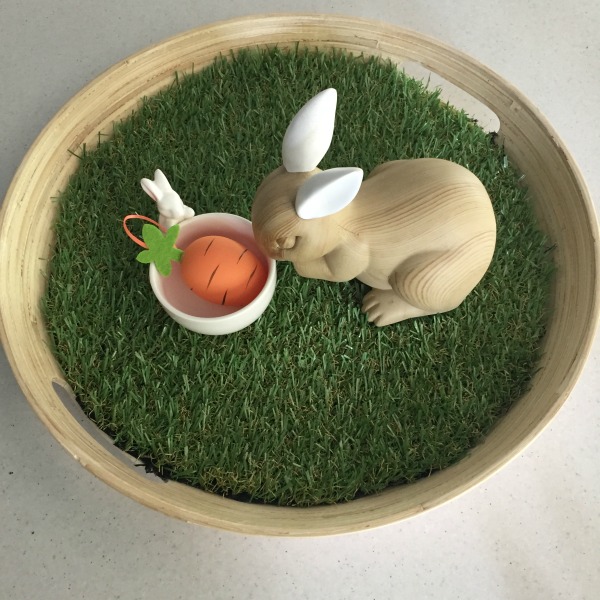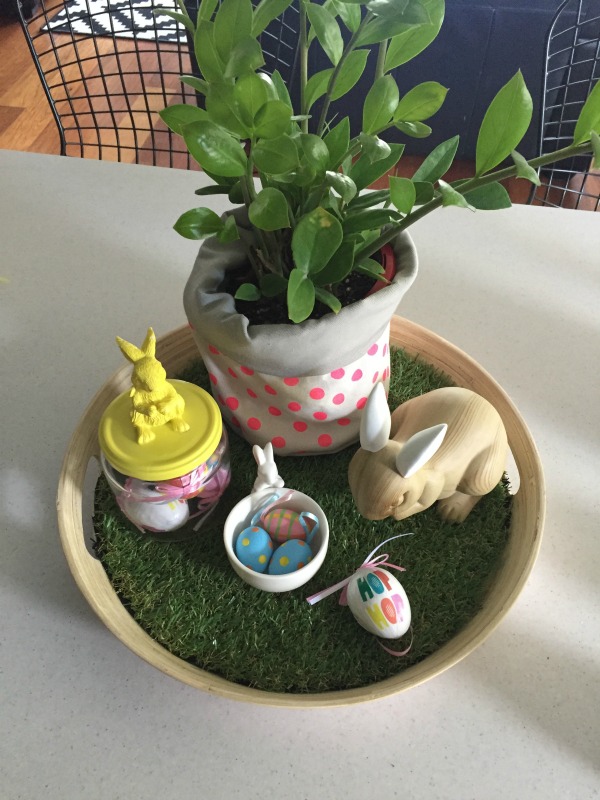 The last centerpiece was what I had on the table, but I felt like it wasn't quite there with where I wanted. After dropping into my local discount store to get some craft supplies, I added a little blackboard and some tin buckets.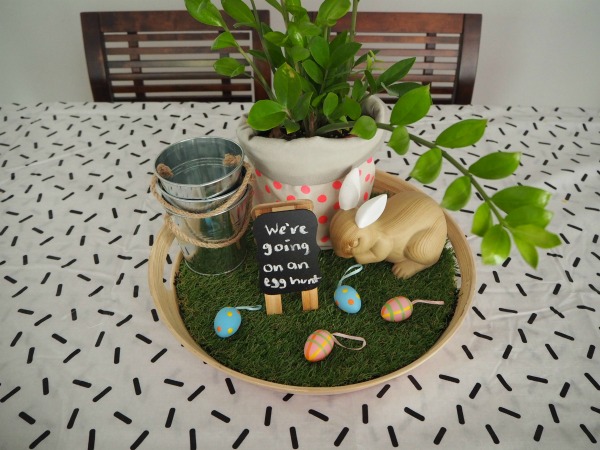 Any leftover inspiration was then put on our buffet.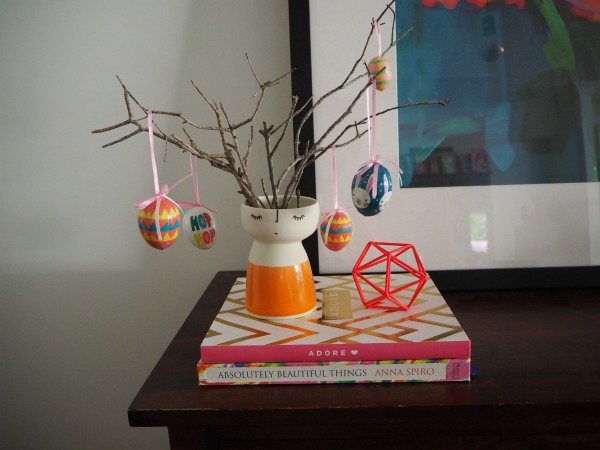 If you're thinking about decorating your home with some Easter goodness, here are some pieces I found online. The best places to check out are Woolworths, Bed Bath n Table, Pillow Talk, Kmart, Target and Dusk.
Do you decorate your home during Easter? Do you typically put together an Easter centerpiece?
Disclosure: There are affiliate links on this post. Should you choose to purchase an item, I will receive a small commission at no extra cost to you.