Even if your bathroom floor isn't ugly, it's easy to update with a bath mat.
While you can add rugs to the bathroom, bath mats are affordable and will wear better in a humid environment.
I'm a fan of a lush, thick bath mat which is soft to walk on and will soak wet feet rather than leaving a slippery bathroom floor.
These bath mats I've found online will certainly draw a smile each time you go to your bathroom. And with us constantly washing hands during this pandemic, it's a room that will be visited constantly.
Of course, they can work well in high traffic areas like door entries and even at the kitchen sink. Our kitchen floor is always notorious for catching drips of water from drying up pots and pans which can't be placed in the dishwasher.
I usually have two bathroom mats per bathroom floor so when one is in the wash, another is put in the bathroom as it's replacement.
I've specifically found small businesses that stock these bath mats, but even the larger department stores like Adairs and Pillow Talk would appreciate your custom.
Bath Mats to Camouflage a Bathroom Floor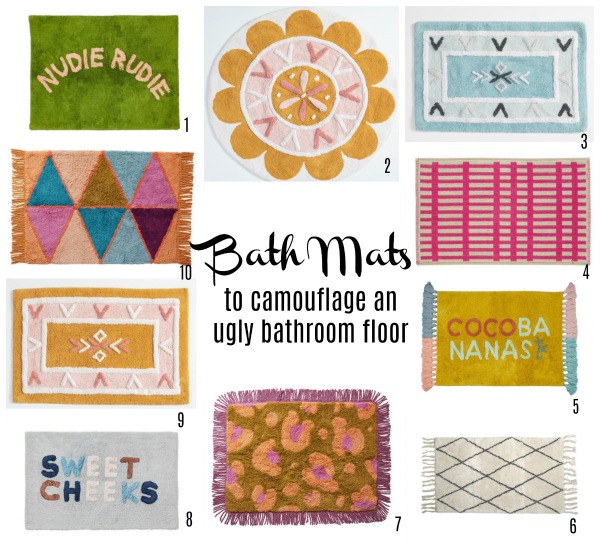 Disclosure: If you click on a link and purchase an item, I will receive a small commission at no extra cost to you.