We've had a lot of our furniture since before we got married. Most of our furniture was purchased from Super Amart.
As a wedding gift, my grandparents bought us a rug. I had no idea what I was after in a rug, but I definitely wanted something modern and it had to be red. We've had that rug for nearly 12 years and it's had a bit of wear and tear from the kids and Bentley. Despite it being cleaned every year, it's deteriorated.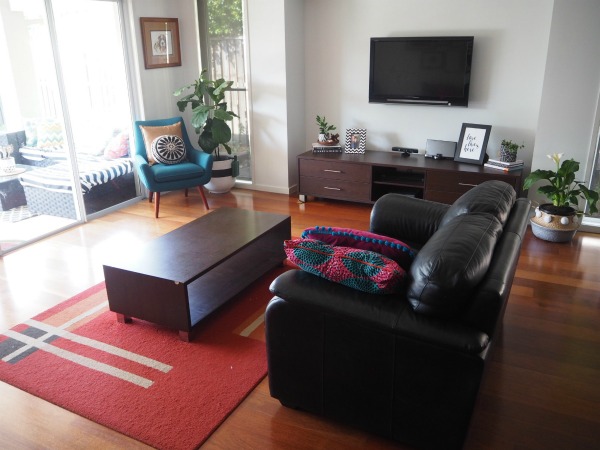 I've been wanting to replace it, but I haven't known what with. And we still have young kids so getting something expensive was out of the question.
It wasn't until I was flipping through the new IKEA catalogue and I saw the special for the Lappljung Rug for $69 this week. I knew it would work with our existing living room. I just had to get it before they sold out.
So I took the three girls to IKEA (sale started on Monday – the first day of school holidays!) and met my dad and mum so they could transport the rug back to my place. I didn't think I'd be able to fit it in the car.
We walked through the whole maze of IKEA (much to my dad's disliking. He can't stand IKEA) and the rug was at the end of the maze! GAH! I remember having a similar experience when buying a rocking chair. My dad never lets me forget that moment!
When I got home, I promptly changed the rug and I'm happy with it. The rug does have more white than black. But for $69! Who can complain with that?
The girls did put one mark on it yesterday, and it came out straight away with this.
Brilliant stuff to have on hand when the kids decide to paint the carpet floor!
I'm just wondering now if I should go back and buy another one? As a spare? I've still got the red one in the garage.
I swore I wouldn't buy a new rug until the kids were a bit older. But this deal from IKEA was too good to refuse.
If you're after one of these rugs, they are on sale for a limited time until 2nd of October, or while stocks last.
Do you like our new rug? What things around the home do you need to replace since having kids? Did you get this rug during the sale?