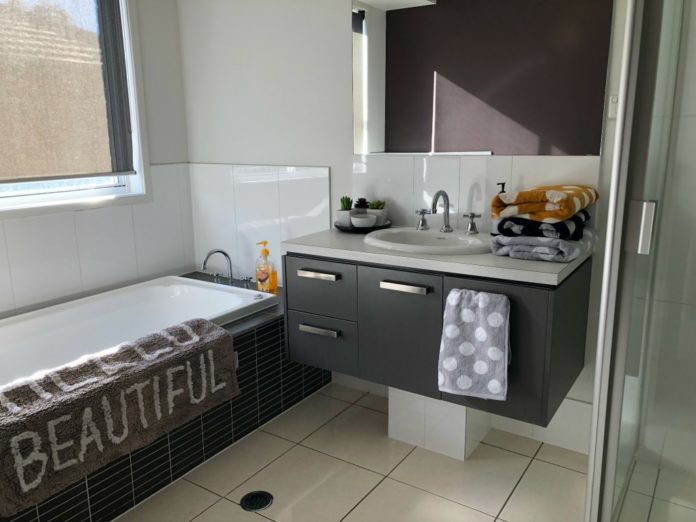 This bathroom tip has saved my sanity when it comes to towels and the frustrating bickering that comes when someone uses the wrong towel. Colour code kids bath towels so you know who uses which towel. This also helps knowing who has left their towel on the floor. It brings responsibility to each child as they look after their own towel and ensures it is hung up after use.
And if not… well they have a wet towel to use next time.
Since the girls have been babies, we have used the neutral white and beige towels we received from my first baby shower (over 10 years ago).
But it's meant no one has known who has used which towel and scenes like this have meant more towels have been used, unnecessarily. Which means more washing.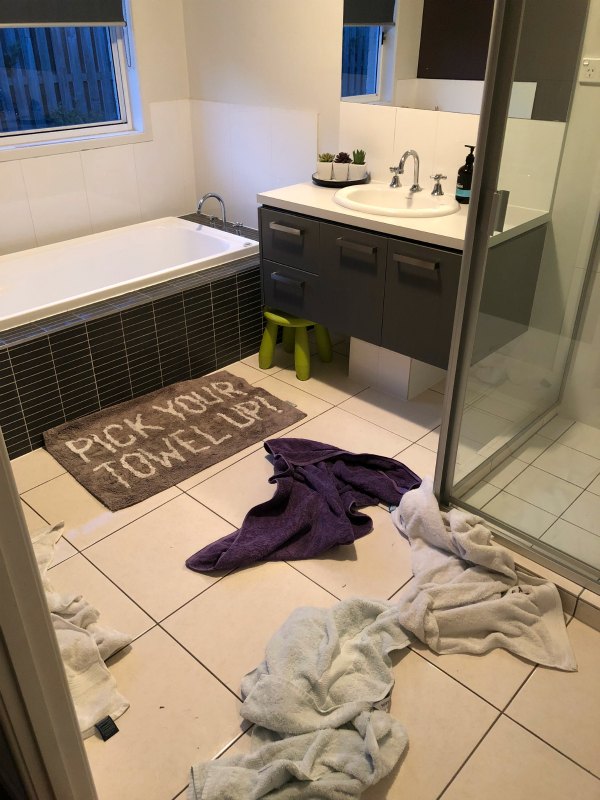 The white towels had started to become thin and some had green paint on them from a paint explosion which never washed out. (Don't ask)
When I got my Spotlight brochure in the junk mail, I found the towels I wanted for the kids' bathroom.
I took the girls to Spotlight and told them to choose the colour they liked best from the pattern I liked best.
Esther chose gold, Maggie chose ink and Phoebe chose silver. The colours are actually mustard, navy blue and grey… but sometimes you have to be over descriptive to get the team onboard.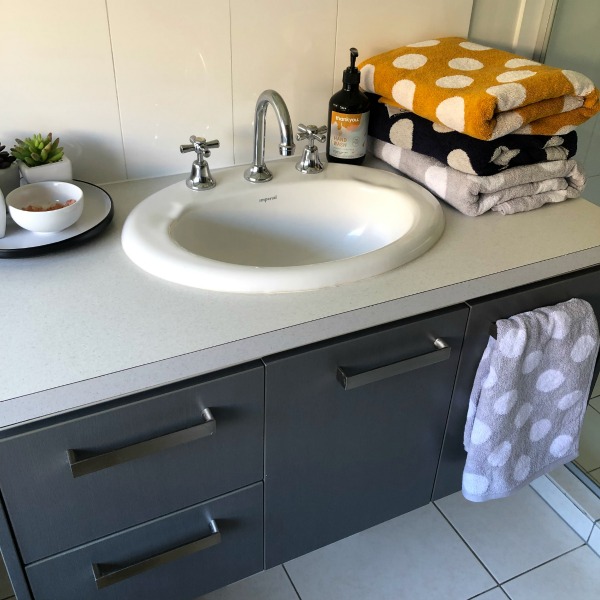 The girls love their spotty towels.
So far, colour coding their towels has worked really well. The towels are great quality for the price I paid for them. They add an element of fun to the bathroom, without looking overrun by kids… which the bath looks like anyway with all the random toys.
Colour coding the kids bath towels has worked well for our girls. Whether you choose a fun pattern or bright colours, get the kids involved in choosing their towel.
Here are some modern designs that can lift your bathroom. The key is finding a pattern with enough colours for all the kids in your family. You could intermix the towels with patterns and colours which match together too to ensure everyone has a different towel.
Do you colour code kids bath towels? What system do you use to keep the bathroom tidy?
Disclosure: There are affiliate links on this post. Should you choose to purchase an item, I will receive a small commission at no extra cost to you.