If you read any interior blogs or magazines, they will be filled with ideas on how to create a vignette.
The term 'vignette' is one that I came across from the styling blog, Interiors Addict. Recently I attended a function where Nicole from The Builder's Wife shared how to create a vignette in your home.
A vignette is a cluster of décor items put together to create interest and tell a story in your home. There is an art to getting a vignette well balanced. It's simply clustering an odd number of different shaped items to create an interesting focal point in the room. Nicole suggests using a tray or magazine/book as a base and then adding different shapes and heights on the tray/magazine.
Without knowing it, I've always had vignettes in my home. All of us do, without realizing it.
The most common places in the house to create a vignette is on a flat surface like a coffee table, dinner table, buffet, tv cabinet, dresser, bedside table or even a kitchen bench.
Vignettes can work well in a bathroom on a vanity bench, and today I'm showing you a simple Christmas vignette I created using a few things I owned in the house and from the garden.
I was sent this delicious Faith Hope Love hand poured soy candle in gold which I knew would make the perfect item to put into my vignette. If you love candles and want to support a home run business, why not put an order in for Christmas to Gwyn here.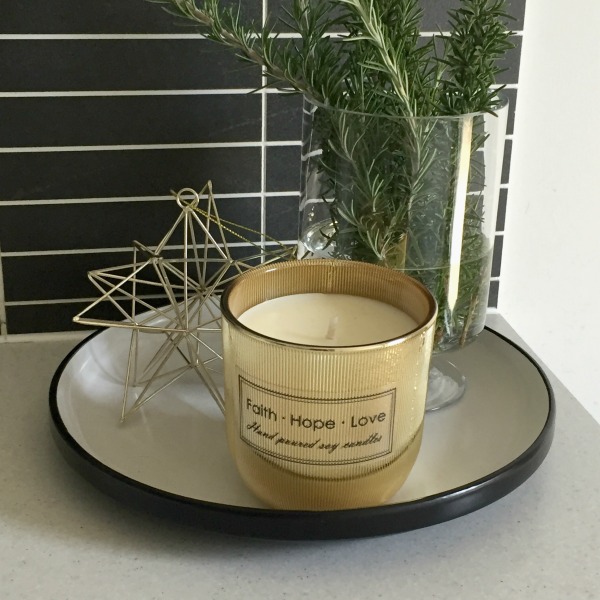 I used a black and white round plate as a platter for the base. I then added a gold geometric decoration and a vase with some sprigs of rosemary from the garden. The rosemary and lemongrass scent of the candle is delightful to walk into. Mixing metallics this Christmas is a big trend. Not that I thought of this when I put the vignette together. But if you're scared of adding gold to your bathroom when you have chrome tapware, don't be.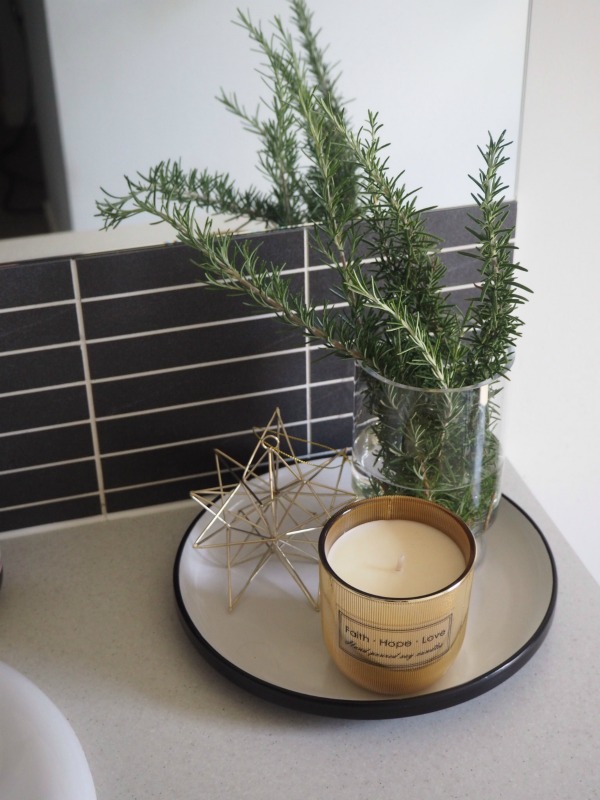 To add more festive cheer to my ensuite, I added a 'JOY' hand towel, purchased from Kmart.
I'm happy with the results and it's always a lovely sight to look at when I go into our ensuite.
Have you added 'Christmas' to your bathroom?
Disclaimer: I was sent a Faith Hope Love candle to be apart of this styling post. All opinions are my own. You can read my disclosure policy here.