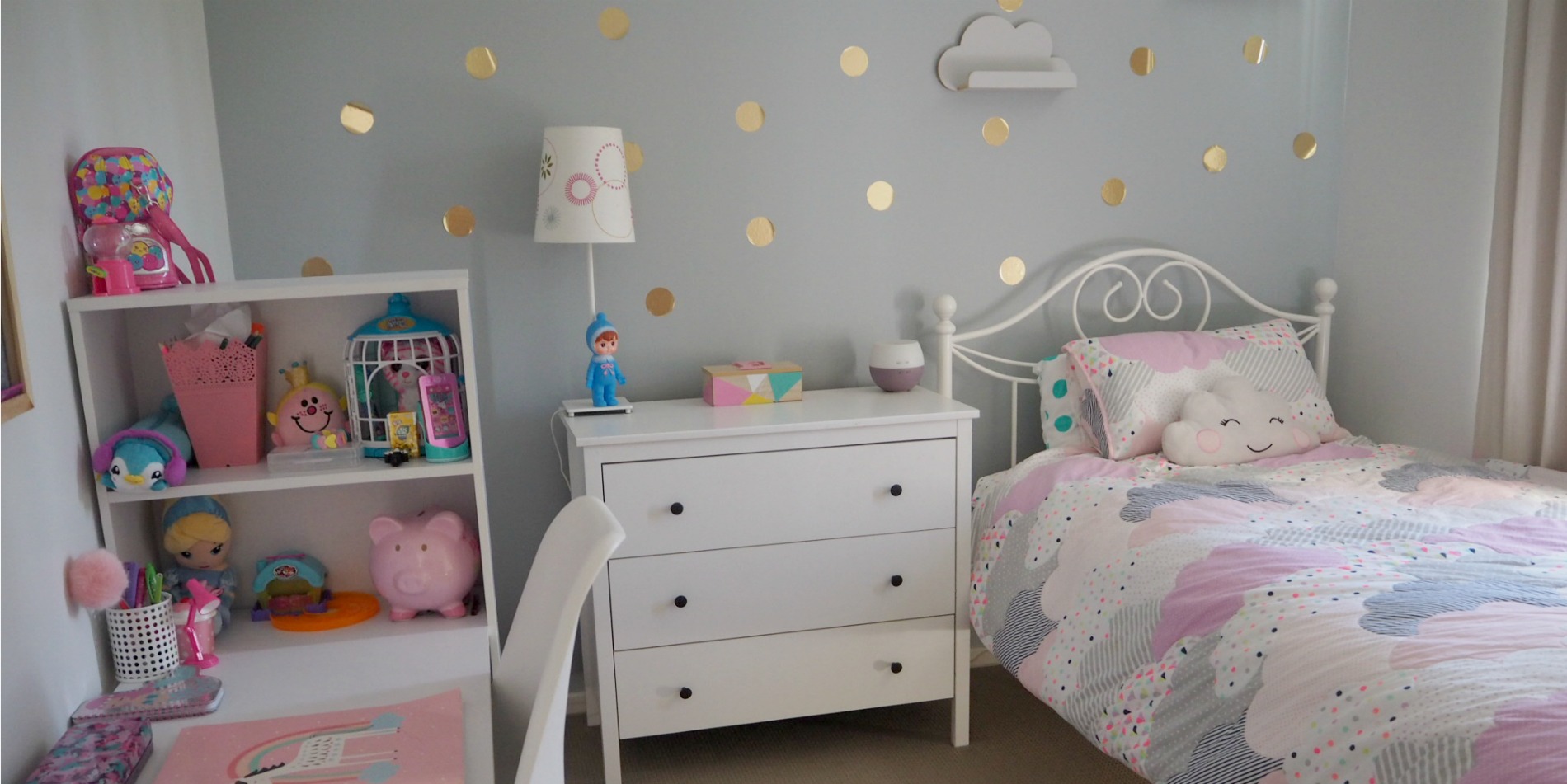 This year, we decided to make over Esther's room for her Birthday. She has been infatuated with TV shows like House Rules and The Block, I thought it would be a good experience to give her room an update.
Her room was in desperate need of a paint and we wanted to swap the big bookcase for a desk. She was using an old make-up dress up table as a desk. (You can see how we updated that here)
There were things in Esther's room that were getting to me. Her first quilt was ripped at the bottom, she had pictures stuck to the walls with sticky tape and she had accumulated a lot of… crap.
So on the June school holidays, we prepped the room. Oh my word. It was hard work scrubbing the sticky residue from the sticky tape where Esther had put her artwork on the walls. The prep work is the hardest part of painting a room I think.
We chose a grey feature wall with gold, spot wall decals. We came up with Esther's room design by looking on the Adairs website. I got Esther to choose her quilt cover and she ended up saying she wanted the room as featured on the site. So I bought the cloud shelves and wall decals from Adairs too.
When it came to purchasing Esther a desk, I wanted one that was white and had some sort of shelving for her books and random toys. Zanui had the perfect desk called the Adaline (currently $129.95), which at the time cost me a little over a $100 including delivery as it was on sale! I didn't want to spend too much on a desk because we still have a mini Picasso who likes to draw on furniture and walls when I'm not looking.
We went to Kmart to get a pin board, chair and mat to complete her room.
Overall the room has turned out beautifully.
Esther loves her room and she enjoys taking visitors to check it out. We still have to fix the painting on the ceiling and we would like to replace the block out curtains with plantation shutters.
Sometimes it can be hard for our kids to know what kind of bedroom designs they like. Don't be afraid to copy a websites design. Pinterest is also a great resource that kids can slowly scroll through and show what they like.
I enjoy walking into Esther's room now. It's so much easier to keep clean. I just have to keep a check on the amount of stuff that seems to accumulate in there each week. I have no idea where it all comes from.
I've put together where we got some of the things in Esther's room. Some things have sold out so I've found similar pieces.
Where do you get inspiration for kids bedrooms? Are you a fan of Esther's girls bedroom makeover?
Disclosure: There are affiliate links on this post. Should you choose to purchase an item, we will receive a small commission at no extra cost to you.