Copper is a really popular trend in interiors at present so it's no surprise to see it being used in bathrooms and kitchens, but not in the way you would expect.
Exposed copper pipes in the bathroom and kitchen are becoming more of a trend. It adds a retro industrial look to your wet space and can look stunning against a neutral black or white tiled interior.
I've sourced some ideas via Pinterest on some contemporary ways of embracing this new trend, but there are a few things to consider before making a commitment to having exposed copper in your property. You may also need to get approval from your local authority to ensure exposed copper pipe is acceptable for install on your property. Unfortunately in QLD, the hot water copper lines require to be lagged before being approved for install. If you are to look at this design, it may only work for the cold water lines in most parts of Australia to abide by Australian Plumbing laws. Nevertheless, these designs show how effective the copper can look when exposed on the wall.
The first thing to consider is, copper tarnishes when left in contact with oxygen so you will need to clean it regularly if you want it to remain a shiny surface. A mixture of lemon juice and salt is a natural cleaner that will help your copper retain it's colour and shine. If you want to avoid having to clean the copper, you can apply a lacquer before the pipes are installed. For best results ensure there are no finger prints or marks on the copper or else they will remain on the copper after the lacquer dries. You will need approximately 2 hours for the lacquer to dry. Lacquer can be bought from most hardware stores.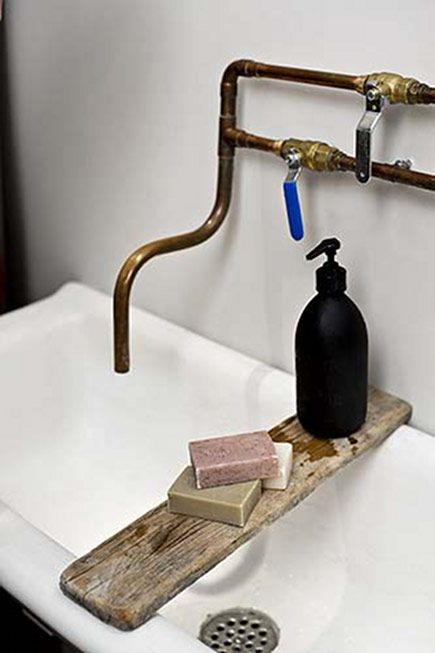 The second thing to consider is the clipping of the pipe into the tiled walls. Your plumber will need to have a diamond drill bit to predrill holes for the pipe brackets. This type of drill bit will avoid cracking the tile when drilling through. If the walls are a waterproof plasterboard or concrete, you will need to get the appropriate plugs to ensure the pipes are firmly attached to the walls. The copper pipes must be clipped to meet the plumbing code and avoid water hammer.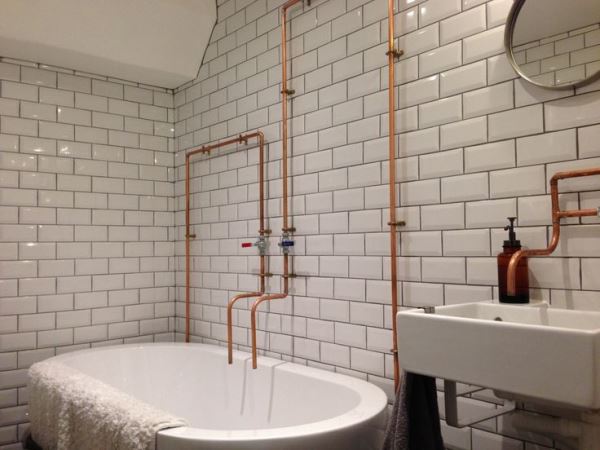 The third thing to consider is whether you want the copper to be welded together or crimped together. I would recommend crimped copper because it's a neater look. Welding will cause each joint to be black, unless you are wanting this specific look.
This look isn't for everyone. Most people would prefer their pipes concealed behind a wall, but it's definitely a trend to consider if you want to make a statement in the bathroom or kitchen. One last thing to consider is if you ever have a pipe leak, your plumber won't have to break into the walls to fix it, although an exposed pipe could cause more water damage without the protection of the wall.
Either way, I think it's a really cool technique. Would you have exposed copper pipes in your bathroom or kitchen? Do you like this type of look?