I love seeing Christmas Lights at this time of year. I personally think lights add that special something to Christmas décor and a tree can look bare without some sort of fairy lights.
I'm excited to share this DIY Copper Pipe Star Light project with you. I was inspired by a similar project made using sticks and I thought I could replicate the same look, using copper pipe.
Of course, I commissioned my dad to create the star using copper pipe he had at home. I sent the plans and picture of what I was after and he went to work.
We decided the best lengths to use for this project was 400mm (40cm), but you can choose whatever length you like, making it bigger or smaller depending on where you are going to display your light.
I chose to use 100mm (10cm) pieces to show how to create the star shape.
This is what you will need:
2 meters of 15mm Copper Pipe
Copper cutters or Hack Saw
Epoxy Adhesive
Measuring tape
Zip Ties
Scissors
Chubby Pencil
Typo Copper Wire Lights
You will need to measure and cut your pieces of pipe. You will need 5 lengths of 15mm copper pipe at 400mm (40cm) long each. You can use whatever lengths you like, but this is the perfect size for wrapping 3m of wire lights.
Once you have cut your 5 pieces, it's time to put them together to create the star shape. I have used 100mm (10cm) lengths to show you how to create the star shape.
You will need to indent one of the crossover pieces to ensure a better fit.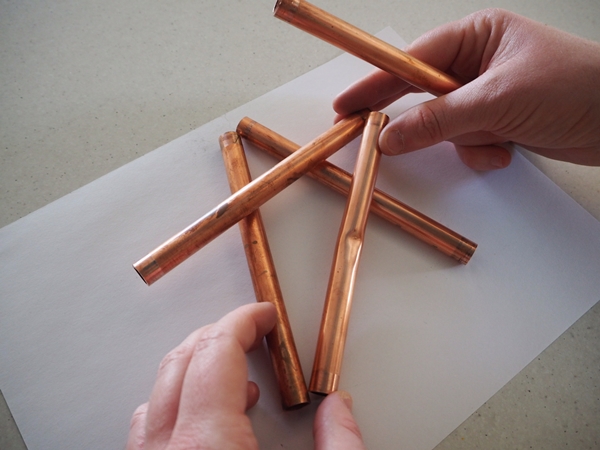 Glue the meeting ends in place and use zip ties to hold the star in place.
Once the glue has dried, cut the zip ties off and wrap around your copper wire fairy lights. These can be bought from Typo for $19.95. Make a note to check the colour of the lights. We originally bought pink lights and didn't realise our mistake until we turned the lights on.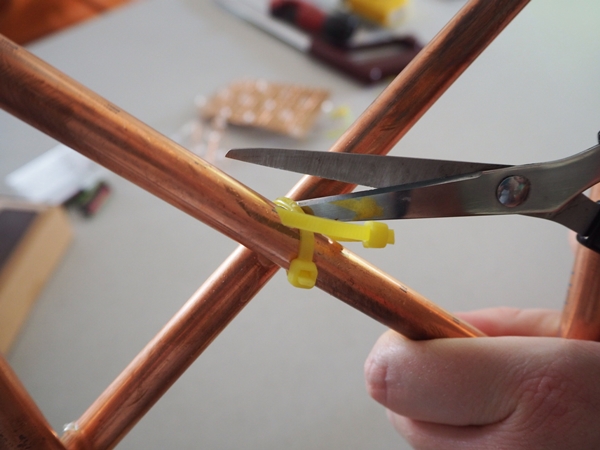 Once we got the right lights, they made all the difference in the look I was wanting to achieve.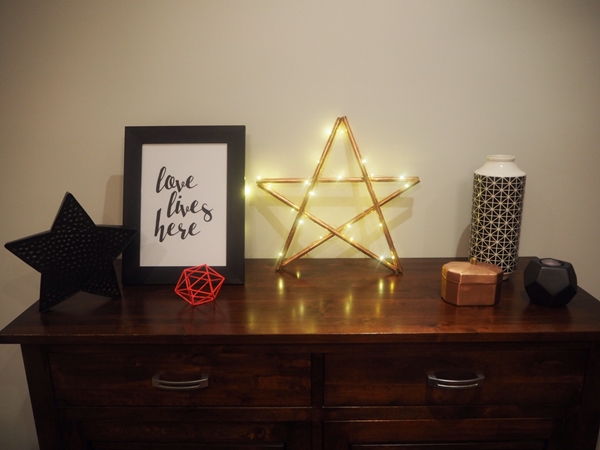 What do you think? To keep the copper from going black, you will need to add a lacquer or use Brasso to shine the copper up.
If you like this project, you might like to make my Copper Pipe Christmas Tree Decoration?
Last week on Home Improvement Thursday, Aaron from Mayfair Plumbing shared about Solar Hot Water units and its a great read if you have a solar hot water unit installed at your property.
Nicole from The Builder's Wife shared some great Christmas crafts that you can do with the kids these school holidays.
We will continue to link up over Christmas because it's nice having something to read over the Christmas break. We'd love to have as many people link up next week to share their Christmas Tree and any décor they have set up around the home. I love seeing how others decorate their homes at Christmas.
As always, Nicole and I love when you link up. We look forward to reading your linked posts this week.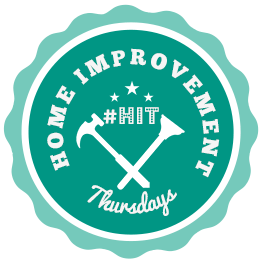 If you're a DIY, home organization, building, renovation, home makeover, home decorating, home maintenance or trade related blogger we'd LOVE you to link up with us below. Here are the HIT rules for how to link up and what you need to do once you have linked up.
Linkable posts, must centre around the topics of DIY, Renovations, Home Organisation, Home Improvement, Home Makeovers, Home Styling, or Home Maintenance.
You can share 1 post each week. Please make sure they are new to the "Home Improvement Thursday" party.
Linking is simple, find the little blue button at the end of the post that says, Add Your Link, and then pop in your URL, and follow the prompts. Your link only needs to be added once and it will automatically show up on both of our blogs… it's that easy!
Grab our #HIT button and pop it on your sidebar. Don't forget to share it with others.
Follow the blogs of your fellow #HIT family, and leave a comment. Please visit and comment on at least three blogs that are near you on the list.
Leave a comment on the post below so we can return the favour and comment on your post.
Don't forget to follow The Builder's Wife and The Plumbette.