If you have a new bathroom to style – or an older bathroom that needs a little something to give it an instant update, you can't go past the bathroom stool. There are a variety to choose from and a number of ways you can style a bathroom stool.
I don't have a bathroom stool – well actually I do, but I wouldn't class it in the variety of what I'm sharing about today.
I have a green IKEA Mammut plastic stool that is used multiple times a day for little people to reach the vanity basin to wash their hands and brush their teeth. It gets hidden under our floating vanity so it doesn't jut in the way of traffic.
But just because I don't have a modern looking stool, doesn't mean I don't wish for one. If you're styling a bathroom in a house for sale or you've renovated and need to give the bathroom an earthy, yet modern look, the bathroom stool will be the perfect piece to add next to your freestanding bath.
A timber stool seems to be the most popular and it tends to be the most versatile as it can suit a range of different bathroom styles.
Their prices range from $29 to $300 for a unique bespoke piece.
My research online has found these stools to be quite popular. I'm not sure if watching The Block resurrects the sales of these pieces.
Nevertheless, here are some I've found available online.
How to Style a Bathroom Stool
There are so many ways you can style a bathroom stool. The most common way is grouping a selection of products to create a vignette.
The stool could have one stand-alone product – like a plant.
Some stools are styled with nothing on them. It depends how busy the bathroom is already.
The most common pieces I've seen styled on a bathroom stool are a candle, block of soap, bristle brush and rolled hand towel.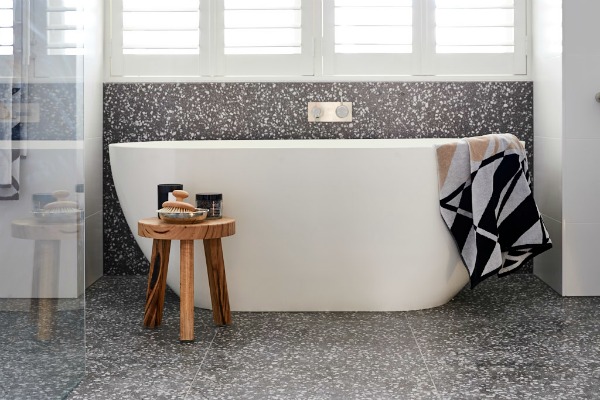 You can place whatever items you own on the stool. Choose items that differ in height to make it visually appealing. Odd numbers work well, but I've also seen two pieces work beautifully together.
The bathroom stool is a practical piece as it can work as another surface to place products on like your towel and soap as you soak into the bath. I know that's how I'd use my bathroom stool.
Do you have a bathroom stool? Which bathroom stool would suit your bathroom?
Disclosure: There are affiliate links on this post. Should you choose to purchase an item, I will receive a small commission at no extra cost to you.