If your patio needs a bit of a refresh, these tips on how to style an outdoor living area will come in handy.
An outdoor living area can extend the livable space in your home, while offering a change of scenery.
It can be another place to share family meals or a place to relax in the afternoon, while getting a dose of fresh air.
You don't have to have a big patio or covered outdoor space to achieve a stylish outdoor living area.
To make the area inviting and homely, incorporate these styling tips.
How to Style an Outdoor Living Area
Firstly, here is my outdoor living area. It's functional for watching the kids play in the backyard, while my husband and I enjoy a drink and platter.
We bought our furniture from Bunnings a few years ago. It's stood up well despite facing the morning sun, and getting wet during the occasional storm.
I've always gone with black and white as the base and added greenery and tropical palm prints to give a botanical look.
We divided our outdoor space with a lounge area and dining. The following tips I share have all come from experience styling my own outdoor area.
Consider the orientation
The first step to styling an outdoor area is to consider the orientation.
Does it open to the backyard or overlook a pool? How protected is the area from the weather? Where does the sun face on an afternoon?
How big is the outdoor space? Can you segregate the area to dining and living or do you only have room for a living area only?
What will your family get the most use out of?
The orientation and size of your outdoor area will determine the furniture layout and if you need to invest in some blinds or shutters to protect from the sun.
Don't overcrowd the space with furniture
Think about your current living area and replicate similar outside to suit the space.
A 2 seater lounge and 2 occasional chairs with a coffee table is a standard configuration which allows for conversation but also gives freedom in moving chairs if needed.
If your space is minimal, try two occasional chairs and a table between.
Corner lounges are great if you have the space and corners to work with. Modular lounges make it easy to change the configuration to suit your outdoor area.
Choose a theme and colour scheme
There are many different themes to style your outdoor area and this can determine the colour scheme too.
Try and create a cohesive look to the interior style of your home.
The colour theme should be 2 to 3 colours. Here's a mood board using black, white and blush paired with wicker furniture.
You can't go wrong with stripes or a tropical print when styling your outdoor area.
Ground the space with a rug
And outdoor rug can not only ground the outdoor living area, it can also help define the space.
Outdoor rugs need to be tough to withstand the outdoors and easy to clean. A patterned rug works well to camouflage dirt and dust.
Add lighting
The outdoor space shouldn't be just for day use. Ensure you add some lighting options to make it functional at night.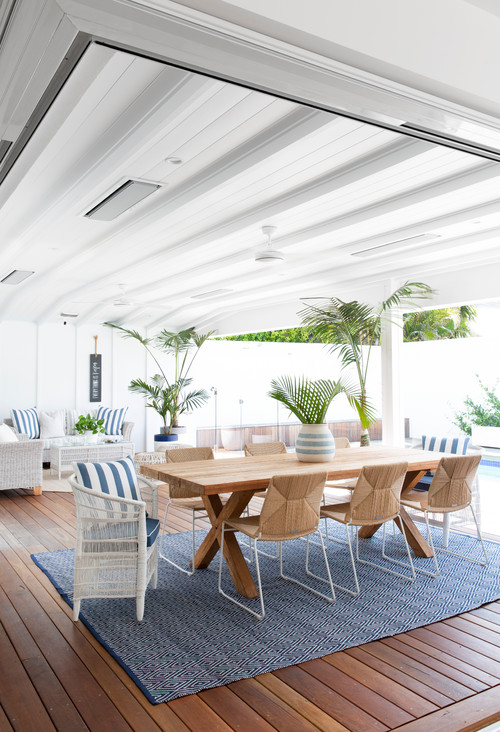 Layer with Cushions and Décor
Cushions will bring interest to your outdoor living space. Always choose cushion covers with fabrics which are water and UV fade resistant.
The outdoor area is a great way to experiment with clashing patterns. Always ensure there is one dominant colour in both cushions to ensure the clash works.
On the coffee or dining table, layer with lanterns, candles or a succulent bowl for some added greenery.
Add some greenery
Greenery always finishes a room. Even if it's an outdoor room.
Before you choose your plants, check they will be tolerant to shade.
Monstera and palms can add tall greenery while a peace lily or some succulents can be interwoven in smaller pockets of your outdoor space.
Do you have an outdoor living area at your home?
Disclosure: There are affiliate links on this post. Should you choose to purchase an item, i will receive a small commission at no extra cost to you.