Lack of bathroom storage is often a pain point in the family home.
While we love the look of a wall hung vanity, it does compromise on storage.
Lack of storage can cause products to overflow on top of the vanity bench, causing it to look cluttered and messy.
Our semi-wall hung vanity has never been big enough for all my stuff. The one in the kids' bathroom is even smaller. I will need to be clever on how to store their products when they're older!
I've used a wire trolley to hold my makeup, hair appliances, toiletry bag and sanitary products because the vanity has minimal storage. The wire trolley was one my husband owned when we first started dating. I worked out it's at least 20 years old!
I have been meaning to upgrade it for a while, but it hasn't been a priority.
Until recently, I was over looking at the mess and decided it was time to find something new.
Now can you remember when I decorated my desk into a Gingerbread House as part of a competition at work? Well I won… with two other colleagues. I got a $50 voucher and rather than spend it on my kids, I spent it on me and bought a new shelving unit for the ensuite.
After organsing the walk-in-wardrobes last year, this Bamboo Foldable Shelving Unit matches perfectly. It was $49 from Target.
I like to have my makeup, hair dryer and straightener within easy reach so I bought a makeup organiser from Kmart ($9) to sit on the top shelf.
I culled my makeup and toiletries to only the essentials. And the space on the top rail allows for my hair dryer and straightener to rest when not in use.
Before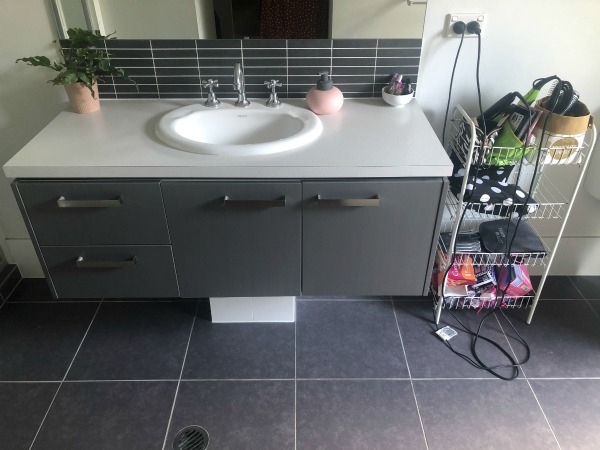 After
The shelving unit comes as a flat pack, but it was fairly easy for me to put together.
It's also removed the hair dryer and hair straightener off the vanity. I do allow my straightener to cool down before placing it on the bamboo rod.
As with all things new, it's great to walk past and see the order. Now to keep it that way!
If you're looking for more bathroom storage ideas, check out this post.