Kitchen styling is something I admire, but am not always good at upkeeping. At present, our kitchen plants have been thriving, but one succulent has thrived a little too much and we're thinking of putting this in the front garden somewhere.
To me, if I'm going to style my kitchen, it has to be more about practicality than style. Thankfully some of the inspiration I share with you today ticks both of these boxes.
When I'm cooking, I like to have everything I need within hands reach. Utensils, knives, trivets and chopping boards are all things I like to have near when I'm cooking dinner at night. Generally, I have spaces in the kitchen where I store these items. But last week, when I was cooking a few different things at once, I thought about having everything on the bench, so I wouldn't have to leave my standing spot by the cooktop.
And so, I did a search in Pinterest for kitchen styling ideas, and here are a few ideas you could incorporate in your kitchen.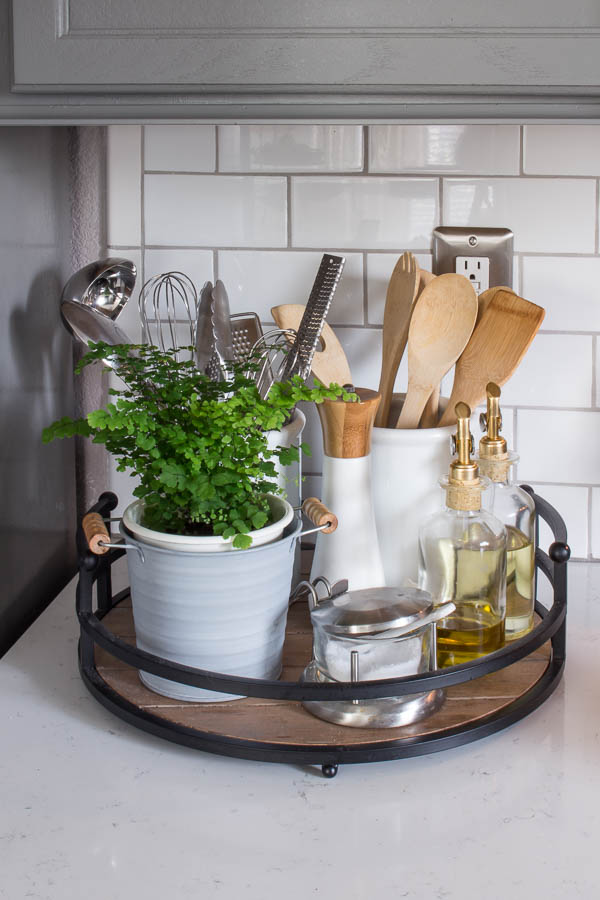 Some things to consider with your kitchen styling
1. Don't over clutter. Keep to the essentials.
2. Think about what you use all the time when cooking and also items you should cook more with, but don't, because they're too far away to reach. These things should be part of your kitchen styling.
3. Have a tray or chopping board to hold all your everyday cooking items together.
4. A vase can make a unique looking utensil holder.
5. Think about mixing textures – wood, glass/clear acrylic, bamboo and black acrylic.
6. Create different heights through the use of wooden boards, utensils, salt and pepper mills and bowls.
7. Have a planter with herbs to add some greenery to your styling. This can be added to your cooking.
8. Use what you already own, before you buy pieces to style your kitchen.
Here are a few pieces I've collated from online.
Do you like to have your kitchen benches clear or styled with necessities?
Disclosure: There are affiliate links on this post. Should you choose to purchase an item, I will receive a small commission at no extra cost to you.
If you like this post, why not check out 6 ways to style herbs in the kitchen.