Winter is always a great time to make some little changes to update your living room to make it feel warmer and to reflect the change in seasons.
In the past, I used to enjoy changing things around in my home to make it look different. Maybe because I was always home with my babies, a change of scenery in the house made me feel less blah. As they say a change is as good as a holiday, and when you have babies at home and all you can see is mess, a styled zone can make a world of difference to your head space.
I have found, once I have nailed a key area in our home, I leave it as it is. I haven't made too many changes in our house for a while because I've had other things to potter around with (kids and work) and I like how things are at the moment. However, there has been one area of our house that has been in need for an update, and they have been the cushions in our living room.
But didn't I just recently buy cushions for our bed?! Yes, yes we did. You can read about those updates here.
Recently, Jacob said he was getting a bit over our cushions in the living room. I looked at the state of our cushions and had to agree. My DIY project from a few years ago didn't look so awesome anymore. The pom pom detailing had started to fray and pull off from the cushion. One cushion zip would no longer do up and my favourite round bohemian cushion had started to fade and look a little worse for wear. We didn't need a complete overhaul of our cushions, but we did need some additions to uplift the space.
I headed to my favourite interiors store, Pillow Talk, and bought some cushions on sale to update our living room. Phoebe was helpful in telling me which ones she liked and which ones she 'ated'. The things they come out with when they're three!
I also bought a new insert for one of our big European cushions. The insert in one had started to disintegrate.
I added a faux fur cushion and another round cushion which I've had my eye on for a while. I also changed our throw to one I've had in the cupboard that would go with all the colours in our living room.
I tend to like an eclectic mix of cushions and try and match with similar colours or patterns – or both. It somehow all works together.
No way are my photos or my living room show room worthy – let's face it, I do have kids. But it's welcoming enough to show you what I've done.
I'm not sure how the faux fur cushion is going to go with our kids. But so far it is the favourite one to be petted when we're in the living room.
If you're wanting to change the look of your Living Room, here are some tweaks that can cost very little money and can make a world of difference to the interior of your home. Many of these you may already know. But this list is a good start if you are not sure what to do or what to change.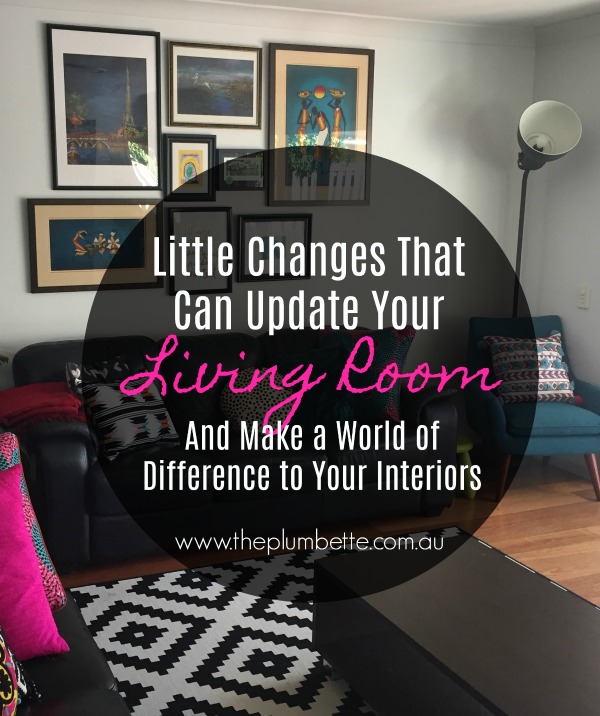 1. Move the furniture. Changing the layout is one of the easiest ways to change your living room space.
2. Add plants. Use baskets or fabric planter bags to hide the plant pots. Always read whether a plant can tolerate shade. If you're not sure on what plants work best inside, you can check out this post.
3. Display books on coffee tables or on TV cabinets.
4. Change the cushions.
5. Add a new inserts to existing cushions to give them more shape.
6. Clean the windows to let the sunlight in.
7. Change the throw – rather than buy new, look at what you already own – even Turkish towels can make a great throw.
8. Change the rug on the floor.
9. Use baskets for storage (we use ours to hold our blankets).
10. Dust everywhere.
11. Give your couches a good clean.
12. Add some plantation shutters or blinds.
13. Add an occasional chair.
14. Create a gallery wall.
15. Change the artwork on the walls.
16. Add a new floor lamp.
17. Paint the walls.
18. Add a feature wall.
19. Update your coffee table.
20. Add an ottoman.
It depends on the size of your space and your budget on how you make the changes in your living room. Our living room is an open space, so any changes affect the main interior of our home.
It's always a good sign when Jacob notices a change and likes it. We can tend to have different tastes in interiors.
For him, our new cushions were what we needed to uplift our living room. And it only cost less than $90.
Right now, many stores are having sales (is it me or is there a sale on EVERY week of late?!), so it can be a good time to refresh what you have.
I've become more conscious on what I spend my money on when it comes to home interiors. If you have pieces you no longer use, sell them on Facebook Marketplace or donate them so others can enjoy them.
Also, don't forget to check out your local op shop for pieces that might be suitable. It's amazing how many people offload their cushions to goodwill and you can score a bargain for under $10.
Have you made any changes to update your living room lately?
Disclosure: There are affiliate links on this post. Should you choose to purchase an item, I will receive a small commission at no extra cost to you.