Around 8 months ago – it could also possibly be a bit longer than that, I broke a bulb on our pendant light that hangs over the dining room table.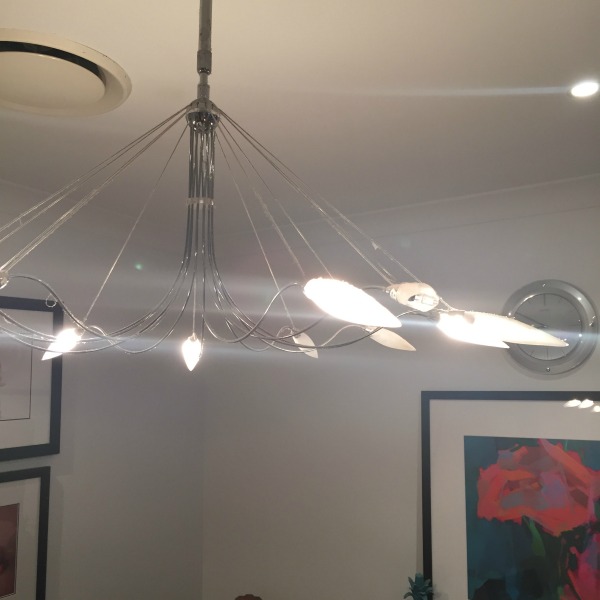 I actually liked our chandelier type light when we first bought our house. It was unique and I had never seen anything like it before.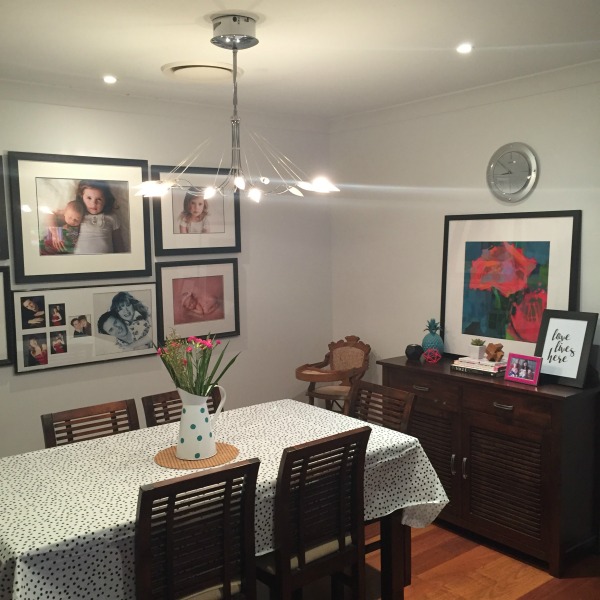 But then after watching a few renovation shows and seeing pendants become the in thing, I started to dislike our light.
Sometime last year, as I was whipping a scarf off my neck near the dining table, I somehow lassooed the scarf around the light and broke a bulb.
We weren't sure how easy it would be to get a new bulb so we decided to replace the pendant with something new and modern.
Just before Christmas last year, I asked my electrician, Stew, how busy he was leading up to Christmas and he told me he could fit me in to replace the pendant.
Well the problem was I couldn't find anything I liked. The pendant had to be big, but unobtrusive so that you could still see the photo gallery on the wall.
The hunt to find a pendant light that was modern and fit the criteria of being big, yet unobtrusive was hard.
I liked the idea of having a set of pendant lights across, but didn't want the extra expense of adding power to three separate places.
Jacob and I decided we would go to Bunnings and get a Geometric looking pendant that would work well in our space. But when we went to buy it, it looked cheap and I wasn't convinced it was the right light for our space.
We booked Stew in to get some electrical work done at our house last Friday, so the pressure was on to find a pendant so Stew could replace our old one.
I rang my brother who is the assistant manager at Beacon Lighting down at Southport and hoped he could show me something else that wasn't on their  website because none of their pendants had tickled my fancy either.
We made the trip down to the shop and this helped me to work out what I liked and definitely didn't like.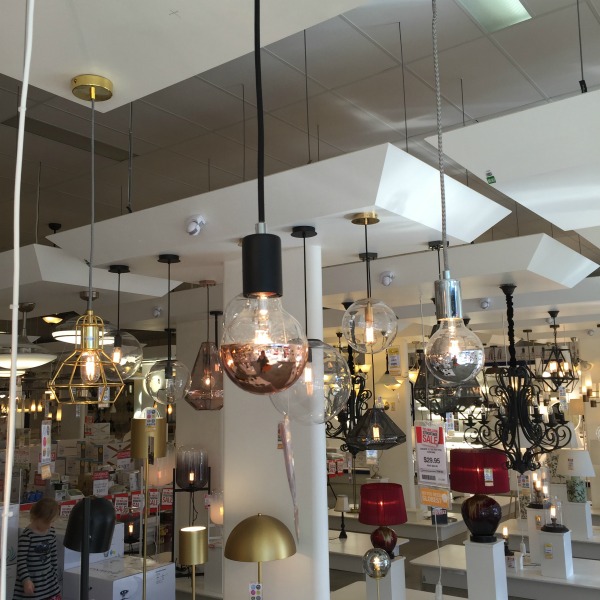 I told Andrew I wanted pendants but I wanted them to come out of the one spot.
And that's when she showed me a new item that hadn't been released to the public yet.  It's a black cluster plate which can hold up to 6 pendant lights. The cluster plate was a game changer because it could fit over our existing hole in the ceiling where the other pendant light had hung, plus I could choose an array of pendants and use hooks to drape them where I wanted them over our dining table.
I decided to go with pendant lights in black and copper and chose 4 different styles that would work together
I'll be honest, I could sort of picture what it would look like, but I also was worried, that it would look like a dogs breakfast!
Once the lights were chosen and bought, I couldn't wait for Stew to come over and install them.
The next big decision was working out which pendants would drape where and the heights. I had to make sure that the lights looked even from every angle.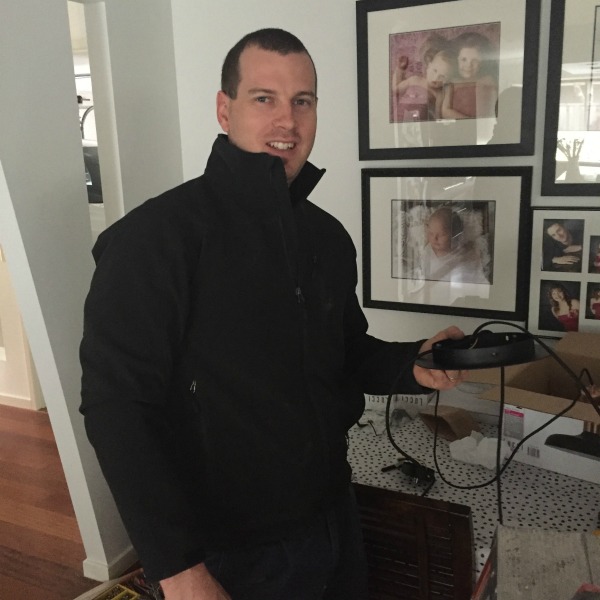 With a bit of swapping and umming and aahing from me, I finally worked out the right combination and I am SO happy with the way it turned out.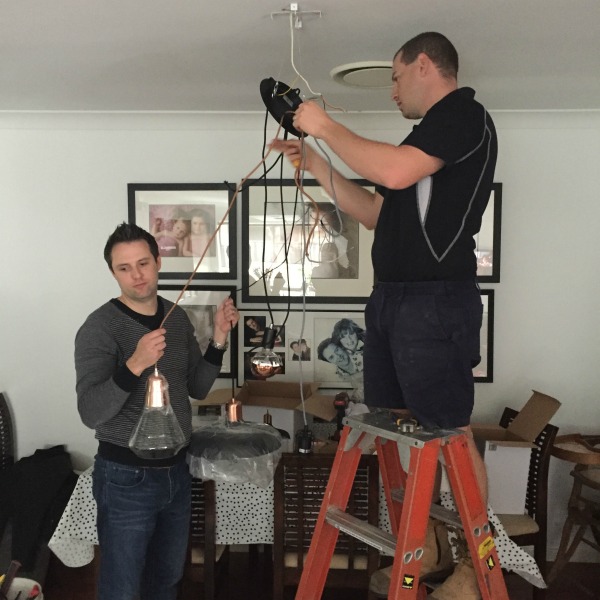 The photos don't give the lights justice. I'm not photographer, and I think they look much better in person than photographed.
But here is my attempt at showing you what it looks like now. This photo was taken before I did a change in some styling.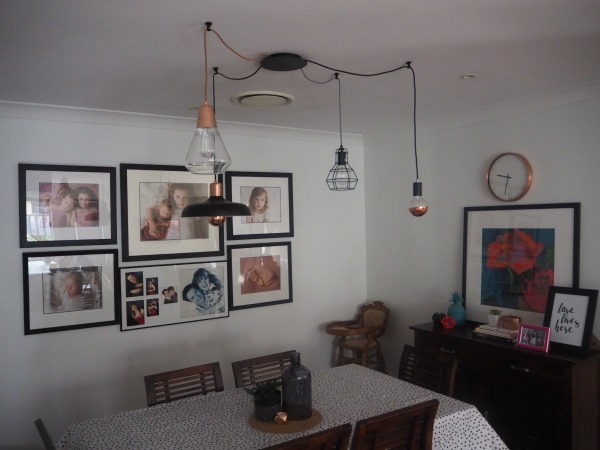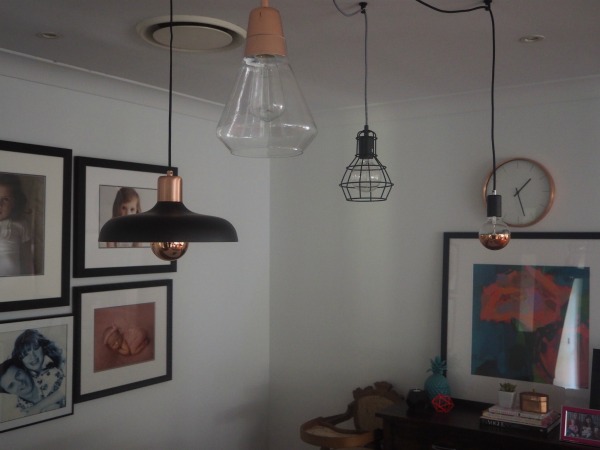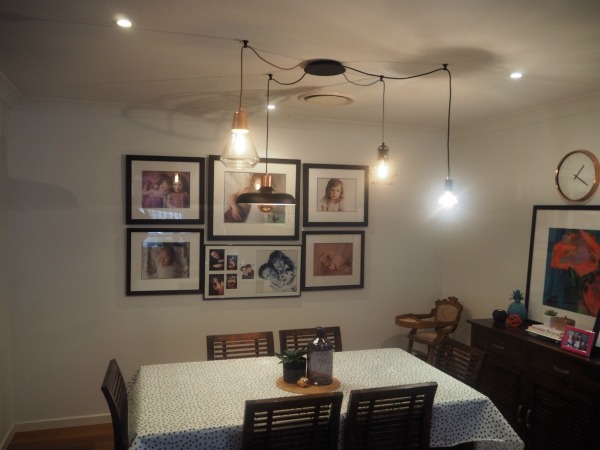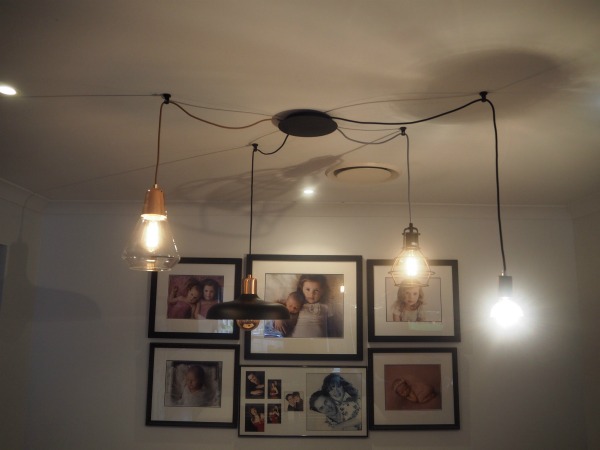 We originally had 40 watt LED carbon look bulbs in the cage and flask type pendant, but they were too bright. We exchanged them for the carbon bulbs which offer no light, but they do give the right amount of ambience and the exact look I was after for our space.
I think what makes this combination work well is having different sized lights, same colours using black and copper and having extra down lights meant we didn't have to worry too much about what light would emit from our pendants.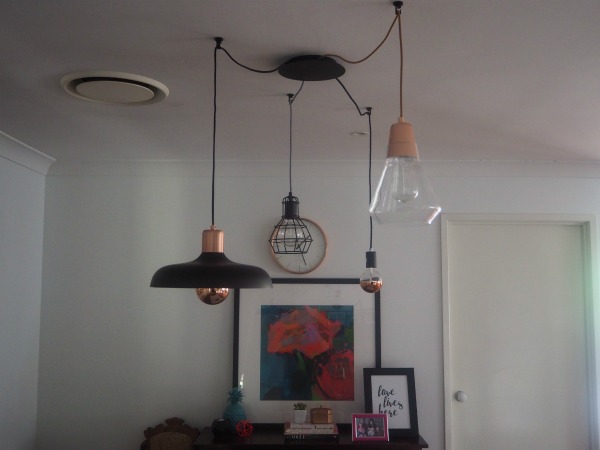 Now to ensure it doesn't get too dusty!
Have you ever found it hard to choose the right lighting for your home? Ever left something broken for a long while because you couldn't decide on what you want?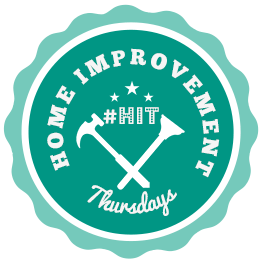 Last week on Home Improvement Thursday, Michelle from
Jarrah Jungle showed a step-by-step process of making a rain chain
from her down pipe. It's very cool. Michelle lives in WA so if you are wanting to do a similar installation at your home, check with your local council if it will be approved.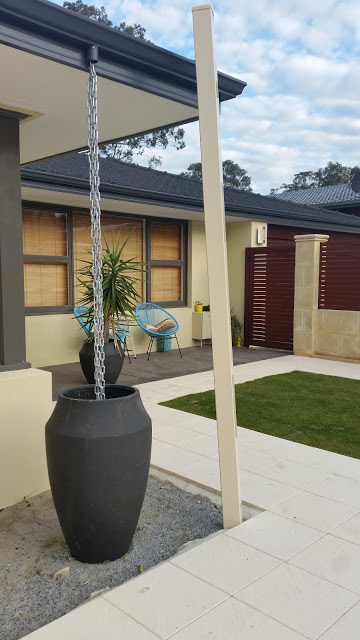 Sarah from TOMFO shared a really clever way to personalize your shampoo containers in the bathroom. If you're particular about how products look in your bathroom, this could be a great little DIY project.
Home Improvement Thursday Rules For Linking Up
If you're a DIY, home organization, building, renovation, home makeover, home decorating, home maintenance or trade related blogger we'd LOVE you to link up with us below. Here are the HIT rules for how to link up and what you need to do once you have linked up.
Linkable posts, must centre around the topics of DIY, Renovations, Home Organisation, Home Improvement, Home Makeovers, Home Styling, or Home Maintenance.
You can share 1 post each week. Please make sure they are new to the "Home Improvement Thursday" party.
Linking is simple, find the little blue button at the end of the post that says, Add Your Link, and then pop in your URL, and follow the prompts.
Your link only needs to be added once and it will automatically show up on both of our blogs… it's that easy! Grab our #HIT button and pop it on your sidebar.
Don't forget to share it with others. Follow the blogs of your fellow #HIT family, and leave a comment.
Please visit and comment on at least three blogs that are near you on the list.
Leave a comment on the post below so we can return the favour and comment on your post.
Don't forget to follow The Builder's Wife and The Plumbette.