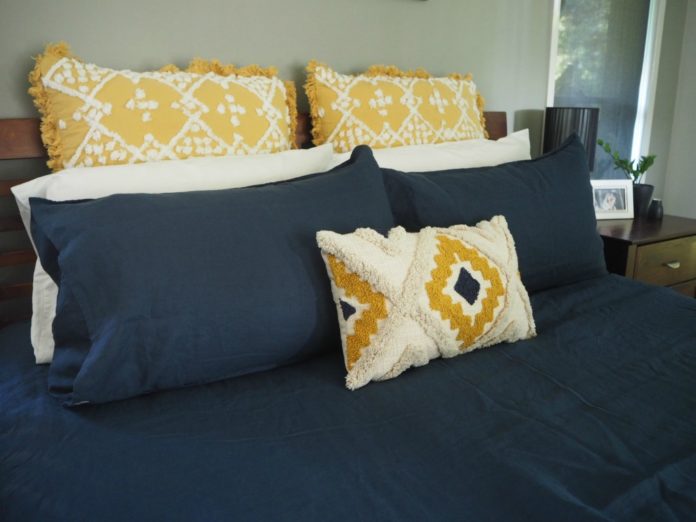 A bed makeover is never something I initiate often as the cost of buying linen is expensive.
But a recent quilt purchase meant I had to buy new quilt covers as our existing covers were too small.
Today, I thought I'd share with you our navy and mustard bed makeover, which I put together yesterday. First there is a bit of a back story to why I needed to update our linen.
Since as long as Jacob and I have shared a bed, we've always had a queen quilt on our queen bed. I had never thought to invest in a bigger quilt until this year when we had three frustrations in the bedroom.
The first frustration was I seemed to always hog the quilt. My tossing from one side to another would wrap me up like a burrito, leaving poor Jacob exposed to the cold.
The second frustration was with our quilt itself. It seemed to have shrunk after being washed, and no longer filled out the quilt cover. Our bed was starting to look a bit pedestrian as a result.
The third frustration was how I felt while sleeping under our existing quilt – especially in between seasons. I would wake up hot in the middle of the night and need to kick the quilt off, only to wake in the early hours of the morning and need the quilt on again because I'd be cold. I think this may have contributed to me hogging more of the quilt.
The frustrations prompted me to head to Kmart to get a new king size quilt. There was none available for what I needed.
So I headed to my next linen haunt – Pillow Talk, where I talked to a staff member and she told me which quilt was best for all seasons. I needed to find a quilt that was 300-350GSM.
She also advised natural fibres like wool, cotton and bamboo were going to be the best materials for my needs. (Our existing down quilt was 500gsm hence why I was feeling hot at night!)
My goal in purchasing a new quilt was buying one I didn't have to change throughout the year with each change of season. But I wanted something that fluffed a little and wouldn't have me kicking it off in the middle of the night. The staff member suggested a bamboo quilt, and the price made me step back. While it wasn't as expensive as other natural fibre quilts, it was definitely not the amount I had thought I would pay for a quilt.
So I waited and kept waiting for a sale and a week or so ago the sale I needed saw me head back to store to purchase. But then I realised I needed to buy a new quilt cover because our existing queen quilt covers would no longer fit.
Hence the new navy and mustard bed makeover.
Now I love white. I did buy a white king quilt set when at Pillow Talk as I still LOVE my Gorman leopard print pillow cases and pom pom cushions and throw (you can see that look here), but I also like to have a spare quilt cover set for when I need to wash the covers and pillow cases. Instead of buying another white quilt, I wanted to buy a darker colour. When I headed to the Adairs Linen Lovers Sale, I created this look by using a navy quilt base and adding mustard and cream for contrast.
I couldn't wait to show Jacob our navy and mustard bed makeover. And naturally I had to show you all too.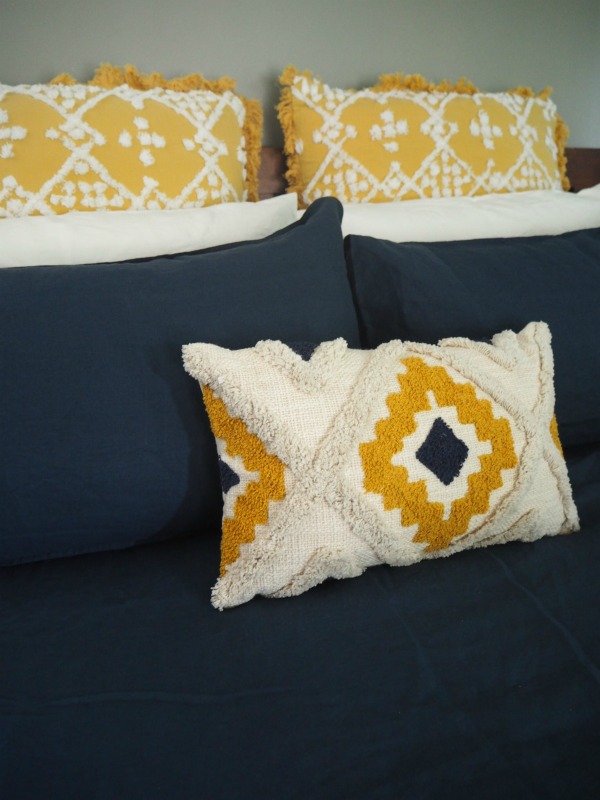 All our bedroom frustrations have been solved by simply purchasing a new king size quilt. The bamboo quilt was an investment, but it will last for years. The quilt has been perfect to sleep both with and without the air conditioning on.
Like all new makeovers, I love looking at the bed. It's also the perfect excuse to get to bed earlier as well.
Have you ever had bedroom frustrations with your linen? What do you think of our navy and mustard bedroom makeover?
Disclosure: There are affiliate links on this post. Should you choose to purchase an item, I will receive a small commission at no extra cost to you.