During the month of February, The Builder's Wife and I held a #HITmyStyle competition where anyone could share a photo of a styled room in their home on Instagram to win a $100 Coles Myer Voucher. We had more entries than we expected! You certainly know how to style. It was so much fun to see the different rooms that entered the competition.
Thank you to everyone who entered. Vicki from Boiled Eggs and Soldiers won the voucher with this stunning entrance way. The colours and styling were perfect. I love how the light reflected from the mirror off the darker feature wall. I also thought the styling on the hall table was well balanced and the peacock feathers worked well with the feature wall and the colours in the living room. The plants placed next to the table was also visually pleasing. I wouldn't mind coming home to that kind of entrance way. If you want to see more of Vicki's renovation updates, check out her blog. (She also shares fabulous recipes too).
  There were many entries that got my attention – especially the kitchen and bathroom entries which I couldn't not feature. I think you will be able to agree with me that these spaces are stunning. What's not to love about Melinda from A Beaut Home's kitchen renovation? The gooseneck mixer and the tile splash back work well together. What makes the tile splash back even more visually captivating is the use of black grout. Love the timber benchtops, offset with white cabinetry. There's a whole lot to love in this kitchen. Follow @abeauthome on Instagram for more house reno pictures.      
Cyndie from Mademoiselle Slimalicious or @FrenchcookinOz (as she's known on Twitter and Instagram), also entered her kitchen. A perfect example of how to combine the bench as a dining space. White kitchens will never get old and Cyndie has styled her kitchen beautifully.
  This kitchen tile splash back entered by Rach @RachJax is very well done. Love the change behind the stove – I don't think I've seen that before. This was definitely a worthy contender, and what's more the tiling was done by the lady herself!    
Another white kitchen renovation was also entered from Francis @fll22. If you have a small kitchen, using white from the floor up will give the illusion of a bigger space. I also love the storage maximization with overhead cupboards.
  Last, but not least, this entry from @mel_from_home_envy – a spotless kitchen styled with coastal and tribal treasures. I love a spotless kitchen, although it's rarely seen in our house.    
Once again thank you to everyone for your entries. We will hold similar Instagram competitions like this in the future.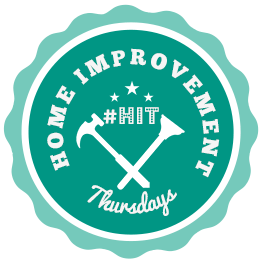 Last week on
Home Improvement Thursday
, I was intrigued by Michelle's post on Jarrah Jungle showing how to
install and paint Dulux wall paper
. It's well worth a read if you are planning a feature wall with a difference in your home. She shares the before and after images of her dining room.
Alix from
The Builderette
explained the difference between a fixed price and cost plus when getting building quotes.
Looking forward to seeing what you share this week. In the meantime, Easter is over 3 weeks away, It would be great to see some Easter Vignette or centerpiece posts in preparation for Easter to give those bloggers who don't usually link up a chance to join in on the Home Improvement Thursday fun.