If you love lemon meringue pie, then you will really enjoy this easy mandarin meringue pie. I used a 'cheat' recipe to create it based on a Kidspot recipe. The whole family enjoyed this for dessert one night and we had plenty left over to indulge on with a cup of tea when the craving hit.
The reason I decided to try and make a mandarin meringue pie was because I had bought mandarin juice instead of orange juice at our weekly shop. I thought the family would enjoy something different to ordinary orange juice.
Unfortunately it had a really tart flavour and the kids wouldn't touch it.
So I thought to use up the juice, I'd have to bake with it and hence why I made a Mandarin Meringue Pie.
I'm not a very technical cook. I like easy recipes, so when I searched for Easy Lemon Meringue Pie and found the Kidspot one, using a tin of condensed milk, I knew I couldn't go wrong with this recipe.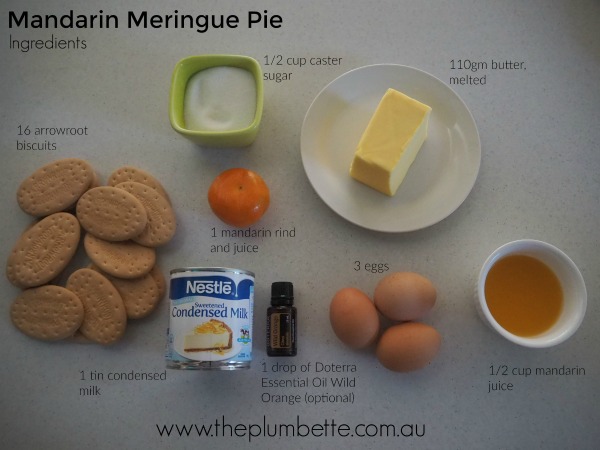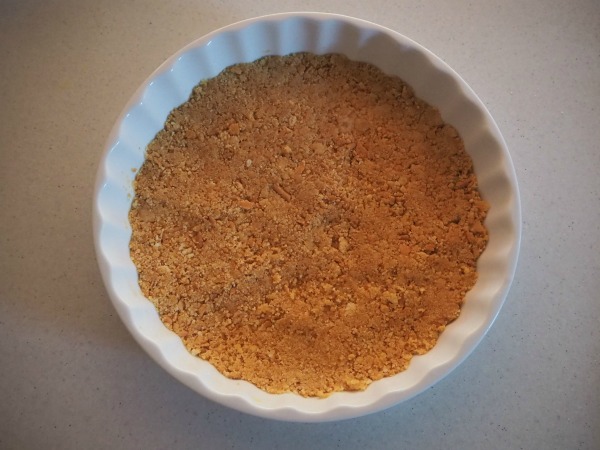 I've made it twice now and both times, the pie has worked out just fine. I reckon this recipe is failproof, but you do need to keep an eye on it in the oven. When you take the pie out of the oven the first time, you will want to see a film on the top to know that it's been baked through. Mine was a little too long in the oven, but that's what happens when you bake other things at the same time!
This Mandarin Meringue Pie makes a great dessert to share, it can also be portioned for smoko morning tea with a cup of coffee or tea. Jacob and I would often have a piece of the pie with a cup of tea after dinner. It's not something we do every night but if there are leftovers to be eaten, we make sure they don't go to waste!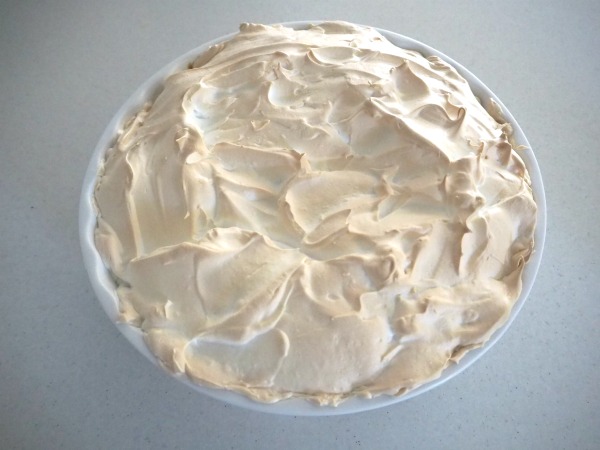 I'm sure you could use the same recipe with other citrus fruits like lime or orange.
I used a 27cm diameter pie dish so there are enough crumbs for the base to suit this size. You may need to decrease the biscuit base if you use a smaller dish.
I also added 1 drop of Doterra Wild Orange Essential Oil to boost the flavour.
I now have mandarin meringue pie to serve to the parents this afternoon at Phoebe's Trolls Party. I'm looking forward to another slice with a cup of tea tonight after all the party shenanigans are over.
Bec Senyard
Smoko Snacks – Easy Mandarin Meringue Pie
5 minPrep Time
25 minCook Time
30 minTotal Time
Ingredients
16 Arrowroot biscuits, crushed to crumbs
110gm butter, melted
3 eggs
1 tin of condensed milk
1 mandarin - juice and rind
1/2 cup mandarin juice
1/2 cup of sugar
Instructions
Turn oven on to 180 degrees Celsius
Crush biscuits to fine crumbs and mix with the melted butter. Press this into a prepared pie dish. Leave in refrigerator overnight or a couple of hours.
Mix condensed milk, rind of one mandarin, 3 egg yolks (keep whites aside for meringue)mandarin juice and orange essential oil (optional)with beaters.
Pour the mixture on the biscuit base and place in the oven for 10 to 15 minutes. Once the pie has a baked film on top, you know to bring it out.
Beat the egg whites until soft peaks form. Slowly add the castor sugar until firm peaks form
Add the meringue mixture the top of the pie
Bake in the oven for another 10 -12 minutes until the meringue is golden brown. Don't walk away and keep an eye on the meringue.
Remove and let cool.
Serve on it's own or with ice cream
7.8.1.2
16
https://www.theplumbette.com.au/tradies-lunchbox/smoko-snacks-easy-mandarin-meringue-pie/
Do you love Lemon Meringue Pie? Ever had a Mandarin Meringue Pie? What's your favourite citrus fruit?