If you want a healthy and filling lunch that uses up ingredients from your fridge, you will love these Beef, Vegetable and 2-minute Noodle Rice Paper Rolls.
I was going to call these the Fridge Clean Out Rice Paper Rolls as that is exactly where I got my ingredients from – the fridge.
I had leftover spiraled veggies and some 2-minute noodles I'd made for Maggie (anyone see the irony in what I just typed!!) and I wanted to use them up in another dish. I also had a big beef roast that I had been carving for lunches.
So I came up with these rice paper rolls and the ingredients worked perfectly.
You can really put any vegetables and meat filling in your rice paper rolls. It's better to have firmer ingredients to wet and droopy ingredients.
I grabbed some mint and chives from the garden to add a bit of flavour, and then put together a sesame sauce for dipping.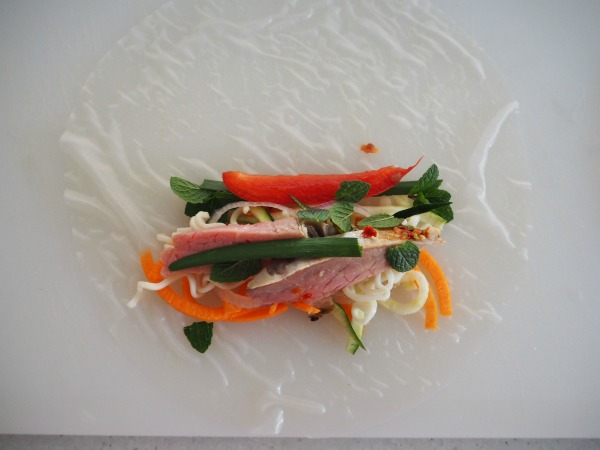 What I love about these rice paper rolls is they can be made ahead of time and kept in the fridge, which means they work well for a lunchbox.
I'm not the best at folding the rice paper rolls, but there is a diagram on the pack that I used and I think I did alright. I would imagine you get better as you practice.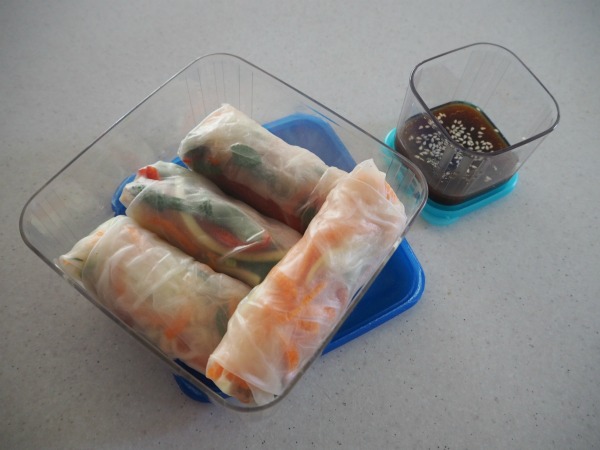 Having a pack of rice paper sheets in the pantry can be good for emergency dinners or simply to use up ingredients in the fridge. Jacob and I have had rice paper rolls for dinner as a dinner on a hot, summers night.
Bec Senyard
Tradie's Lunchbox – Beef, Vegetable and 2-Minute Noodle Rice Paper Rolls with Sesame Sauce
30 minPrep Time
30 minTotal Time
Ingredients
Rice Paper Rolls
1/4 cup of cooked and cooled 2-minute noodles
1 carrot spiraled
1 zucchini spiraled
1/2 capsicum, sliced
2 slices of red onion
A few slices of meat of choice (we used beef)
Bunch of chives and mint
Sesame Sauce
2 Tablespoons of soy sauce
1 Tablespoon of Olive Oil
1 Tablespoon of sweet chilli sauce
1/4 Teaspoon of sesame oil
1/4 teaspoon of vinegar
Pinch of minced garlic
Pinch of brown sugar
Pinch of sesame seeds
Instructions
Organise ingredients in a row so they are easy for assembling the rice paper rolls.
Place 1 rice paper roll sheet in a shallow tray of warm water. Wait for it become pliable
Then place the rice paper roll on a board and layer ingredients at the bottom of the sheet.
Roll from the bottom of the sheet, then fold each end inwards and then keep folding the roll upwards so it becomes a roll.
Repeat with remaining sheets. Be careful not to overload the roll as it will break apart.
Mix all the ingredients for the sesame sauce.
Keep rolls in fridge but only make 2 batches for 2 lunches at a time.
7.8.1.2
19
https://www.theplumbette.com.au/tradies-lunchbox/tradies-lunchbox-beef-vegetable-2-minute-noodle-rice-paper-rolls-sesame-sauce/
What ingredients do you like to put in your rice paper rolls?