If you're looking for a way to use up bulk Bolognese sauce, these Bolognese Sausage Rolls are a great way to do it.
Whenever I make Spaghetti Bolognese, I try to make a double batch of the sauce, to freeze for another night's meal.
Bolognese sauce can be used to make lasagna, shepherd's pie or another pasta dish like pasta bake.
Jacob has a special recipe for Bolognese sauce, but over the years, we've tailored it more to suit our girls' tastes. I always add finely diced carrot and zucchini so the kids don't realise they're eating veggies.
Earlier this week we had Spaghetti Bolognese, and with the kids home on school holidays, I decided to use up the other batch of Bolognese to make sausage rolls.
The kids couldn't get enough of them!
A couple of months ago I tried my hand at making sausage rolls from scratch. I referred to a recipe from Create Bake Make (my go to site for all baking these days) and advice from a friend at church on using sausage meat. I then added whatever veggies I had in the fridge. They turned out so good, I don't think I could ever go back to store bought sausage rolls!
Of course, sausage rolls are best eaten after they've cooled from the oven. I love the crisp pastry taste.
If you do take them to work for lunch, and this is a lunch room with appliances, why not warm them in the oven or on a sandwich press. Alternatively, these sausage rolls can be served to host large crowds.
I will be serving these sausage rolls at a party for sure. The girls devoured them at lunch and despite the tomato filling, they still had to have tomato sauce to dip on the side.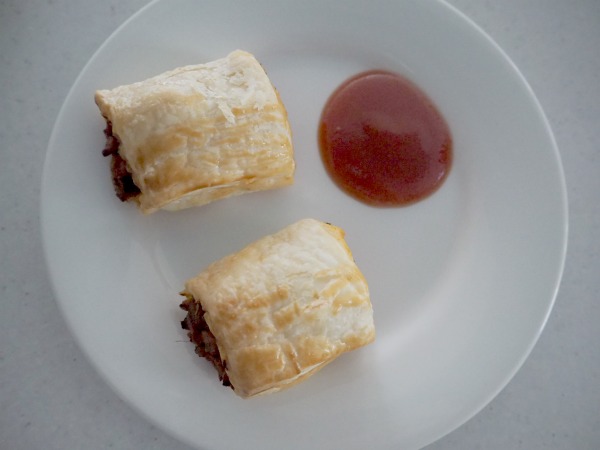 With the Bolognese sauce, you need to make sure the sauce is more 'meaty' than sauce. Bulk up the consistency by adding finely grated carrot and zucchini.
Hope you enjoy these as much as we did. We have plenty left for lunch tomorrow. YUM!
Bec Senyard
Yields 30 small sausage rolls
Tradie's Lunchbox – Bolognese Sausage Rolls
25 minPrep Time
25 minCook Time
50 minTotal Time
Ingredients
500gm mince
1 tablespoon of rice bran oil
1 onion diced
1 carrot finely diced
1 zucchini finely diced
1 teaspoon of finely diced garlic
1 teaspoon of finely diced ginger
1 500gm jar of passata or your favourite tomato sauce
1 egg, lightly beaten
3 sheets of puff pastry thawed
Instructions
Preheat oven to 200 degrees
Remove pastry from the freezer and allow to thaw
Heat the pan and add rice bran oil. Fry the onion until translucent.
Add garlic and ginger and fry for 30 seconds or so
Add mince and brown it as needed.
Add passata and veggies to the meat. Cook through and leave to cool.
Cut the sheet of pastry in half and brush egg on each bottom and top end.
Use a spoon to place the Bolognese mixture in the middle of the pastry sheet and roll over to create the roll.
Repeat until mixture is all used.
Cut each roll into 5 equal piece. Brush with the egg and place onto prepared baking trays
Bake for 25 minutes or until the pastry has turned golden brown.
Notes
Double the batch of Bolognese sauce so you can make Spaghetti Bolognese one night and Sausage Rolls the next.
7.8.1.2
15
https://www.theplumbette.com.au/tradies-lunchbox/tradies-lunchbox-bolognese-sausage-rolls/