This Broccoli Spinach and Pomegranate salad is a festive side dish to any meat served on Christmas Day.
If you are in need of adding more greens to your diet after a bit of excess indulging over the holiday period, you will enjoy this Broccoli Spinach and Pomegranate Salad.
Broccoli is one of my favourite green vegetables to eat. Usually I eat it cooked at dinner, but in this recipe, the broccoli is raw and you know what? It tastes really good.
Did you know that eating raw broccoli is better for you than eating it cooked? Many years ago, I thought my mother-in-law was weird when she requested her broccoli raw for dinner.  Seems like she was more knowledgeable than me about this vegetable.
What makes this salad delicious is the added herbs and dressing. The herbs came from our garden and the dressing was a mix of pantry ingredients.
The biggest test was to see if my husband would eat it. I topped it with cooked chorizo and it got the thumbs up from him. I went in for seconds because I enjoyed it so much.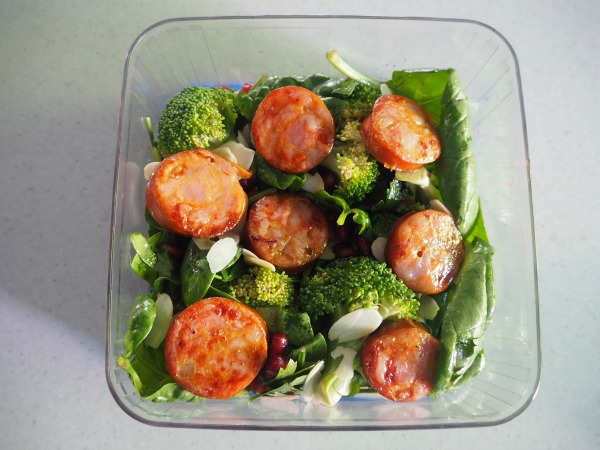 The inspiration for this recipe was drawn together after I had broccoli and a pomegranate that needed to be used up. The pomegranate seeds make the perfect contrast to the salad, and it adds to the taste.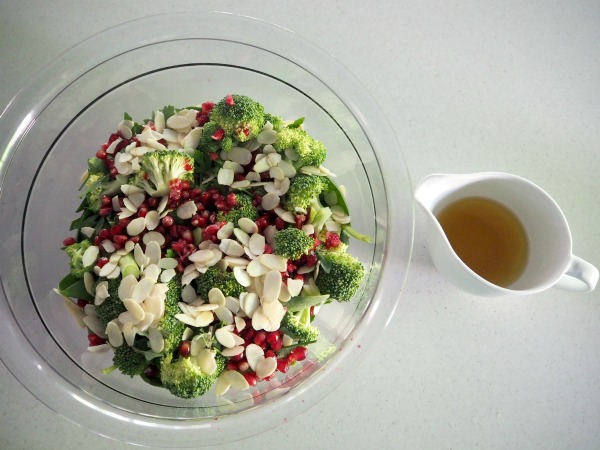 You can add raw cauliflower to this salad, but I wasn't game for that.
For added protein, chorizo, bacon or cut up beef/steak would work well to accompany it. This salad is definitely going to be on my salad rounds in the future.
Bec Senyard
Tradie's Lunchbox – Broccoli, Spinach and Pomegranate Salad
10 minPrep Time
10 minTotal Time
Ingredients
2 Heads of broccoli, chopped
1 Cup of spinach leaves
1 Bunch of parsley, chopped
1 Bunch of oregano, chopped
1 Pomegranate - seeds only
1/4 Cup of slithered almonds
Dressing:
1 tablespoon of grated ginger
1/2 teaspoon of dried oregano
3 Tablespoons of lime juice
2 Tablespoons of olive oil
2 Teaspoons of raw honey
Instructions
Whisk dressing and set aside.
Cut broccoli into small pieces, and add spinach and pomegranate seeds.
Chop herbs and add to salad.
Pour dressing over the salad and gently toss
Sprinkle slithered almonds
7.8.1.2
23
https://www.theplumbette.com.au/tradies-lunchbox/tradies-lunchbox-broccoli-spinach-pomegranate-salad/
Have you tried raw broccoli before?
If you liked this post, why not check out
10 Delicious Salad Ideas for Lunches