This easy curried brown rice salad has become one of my favourite salads for lunch because it's got a lot of flavour and is very filling. One serve filled me up for lunch and I didn't add any extra protein to have with it. I know this salad will be a winner for your family whether you dish it out for lunch or as a salad to a BBQ. I also like the mix of colours in the salad, and this is something I think about a lot now that I'm doing these recipes. I want them to look good, not just taste good.
We have a bulk bag of brown rice that we are slowly going through for dinners. We used to eat basmati rice or jasmine rice when the dinner called for it. But I've long known brown rice is better for us and the girls eat their rice happily. It's a bit chewier, but I find I don't need to eat so much of it because it's quite filling.
I cook my rice in the microwave in my Tupperware rice cooker. I find brown rice tends to require more water and more time in the microwave to cook properly.
For this recipe, I cooked the rice on the stove in one pan. That's why it's so easy. Everything is cooked in the one pan so less washing up after the salad is made.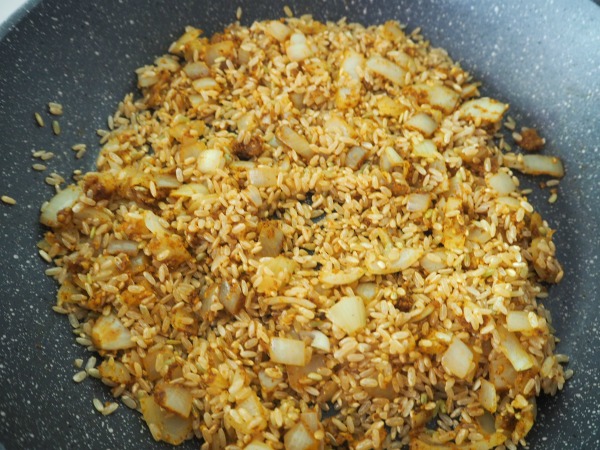 I've based my recipe on this one from Family Food On The Table.
I've added capsicum, coriander ( I can't get enough of this herb in my salads), red apples and flaked almonds. I don't like sultanas or currants in my salads, and my girls don't like to eat them either, so I added the apple instead to add some sweetness to the salad. The apple doesn't go brown in the salad because of the lemon juice component.
I'm sure you will enjoy this salad like I have. My girls are still hung up on my Two Minute Noodle Salad which Maggie and Phoebe now request most days for lunch. Who knew doing new recipes each week would get my girls eating salads!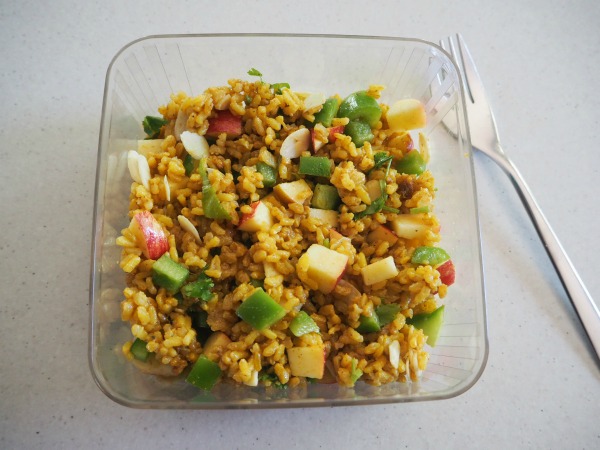 Bec Senyard
Tradie's Lunchbox – Easy Curried Brown Rice Salad
10 minPrep Time
45 minCook Time
55 minTotal Time
Ingredients
2 Tablespoons olive oil
2 small onions, diced
1 Tablespoon minced garlic
1 Tablespoon curry powder
1 Teaspoon of ground cumin
1 Cup of brown rice
4 Cups chicken stock
2 Small Apples, diced
1 Capsicum, diced
1/4 cup flaked almonds
Coriander (add to your liking)
1/4 cup lemon juice
Salt and pepper to taste
Instructions
Heat 1 Tablespoon of olive oil in a pan on medium heat. Saute diced onion until it's translucent and tender. Add garlic and saute for another 30 seconds.
Add curry powder and cumin to the pan as the heat brings out their flavours.
Add brown rice and coat with the flavours in the pan. Add chicken stock and bring to the boil, reduce heat and cover. Simmer for 35 minutes until rice is cooked and all liquid is absorbed. I taste tested as I went with this and added more stock until the rice was less chewy.
Let the rice stand for 10 minutes to slightly cool.
Stir in lemon juice and remaining olive oil. Allow the rice to cool on the bench before placing in the fridge to cool.
When the rice is cool, add the apple, coriander, capsicum and almonds. Serve immediately or portion into containers for 4 days worth of lunches.
7.8.1.2
6
https://www.theplumbette.com.au/tradies-lunchbox/tradies-lunchbox-easy-curried-brown-rice-salad/