If you're looking for a healthy, hearty salad, this Roast Pumpkin, Feta and Beetroot Quinoa Salad will not disappoint.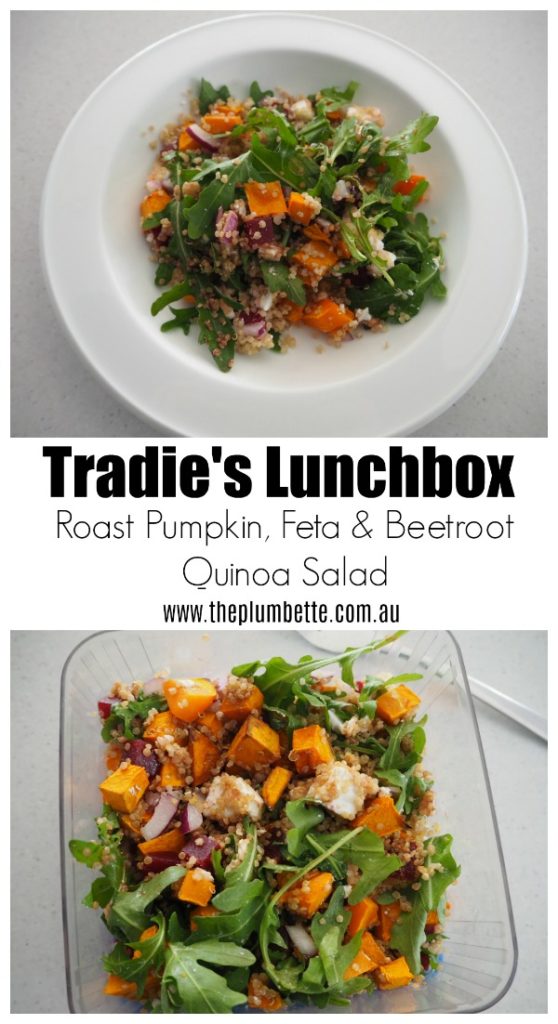 I had a similar salad at Shingle Inn, which I shared with my mum, and it was delicious. It was very filling as well. The Shingle Inn version used sweet potato, but I tend to like pumpkin more when making a roast veggie salad. I much prefer the taste of pumpkin over sweet potato. But you can change this accordingly, depending on your taste preference.
I'm a bit unusual in that I love eating salads in winter. Usually the Brisbane winter days are mild  – by midday at least, so a salad doesn't seem too ridiculous to eat on a mild winter's day. I've been craving salads of late because they are another way for me to up my vegetable intake for the day. I've had a few problems with my skin lately and I've wondered if the lack of fresh produce has been to blame? Who knows.
Quinoa is often my go to grain when I have to cook a gluten free meal. The only set back is the cost, but half a cup can go a long way. I love using it in salads and replacing it for rice with a stewed dish.
My favourite part of this dish is the mix of beetroot and feta. It's one of my favourite toppings on crackers. Beetroot and feta go deliciously together. It's another one of those sweet and savoury type tastes that I can't get enough of.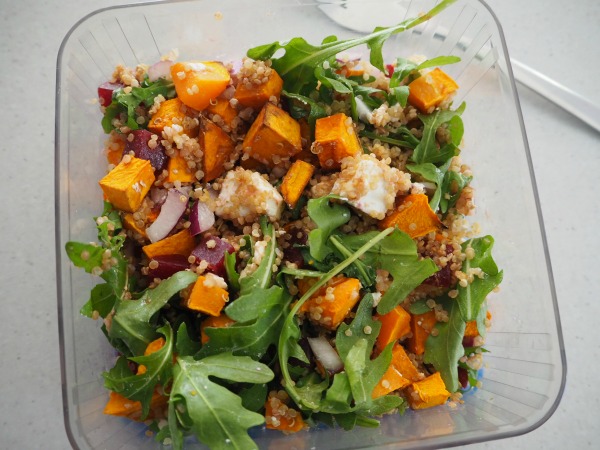 I bought a tin of cubed beetroot to make it easier to put in the salad. I also bought the rocket, because the rocket in our garden has finally gone too bitter to eat.
Having said that, this Roast Pumpkin, Feta and Beetroot Quinoa Salad is one I will have on high rotation when summer does come around.
Bec Senyard
Tradie's Lunchbox – Roast Pumpkin, Feta and Beetroot Quinoa Salad
10 minPrep Time
25 minCook Time
35 minTotal Time
Ingredients
1/2 cup quinoa (not cooked)
1 cup cubed pumpkin, roasted
1/3 cup cubed Danish feta
1/2 cup cubed beetroot
2 slices of red onion, diced
1 cup of rocket
2 tablespoons of balsamic vinegar (more to taste if needed)
Instructions
Cook quinoa as per instructions on packet. Allow to cool.
Combine roast pumpkin, feta, beetroot, onion and rocket to the cooled quinoa.
Dress the salad with balsamic vinegar.
Serve immediately or store in a container for half a week of lunches.
Notes
Roast the pumpkin while you cook the quinoa.
7.8.1.2
18
https://www.theplumbette.com.au/tradies-lunchbox/tradies-lunchbox-roast-pumpkin-feta-beetroot-quinoa-salad/
Are you a fan of Quinoa? What's your favourite roast veggie salad recipe?