If you're looking for something less salady for lunches, these sour cream quiche tortillas may be just what you're after. They are so easy to make and are a versatile meal that can be flavoured how you want.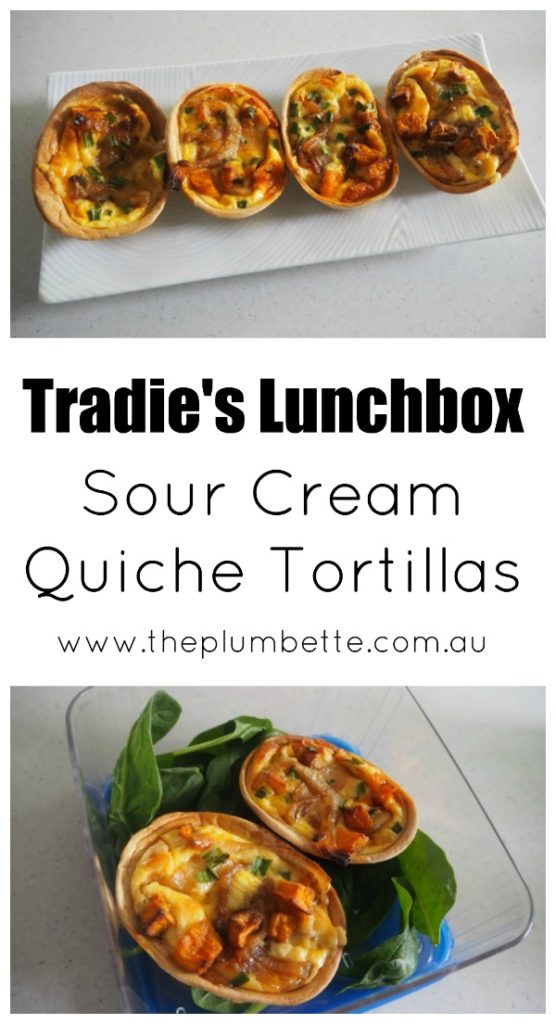 I can't vouch for coming up with this idea for quiches. One of Jacob's work colleagues suggested using these tortillas as a base for quiches after Jacob told her our girls couldn't get enough of them for dinner. So I'm dedicating this recipe to Marg, because it was really her idea and I give credit where credit is due.
I had been wanting to share my quiche recipe with you (because it's so easy and tasty), but wasn't sure what base to use. These tortillas are perfect and don't go soggy. They can be easily packed for lunch, or made for dinner with a side salad.
The quiche recipe I use is from my 4 Ingredients Cook Book. As the name suggests, it uses only 4 ingredients plus the filling. No wonder I love it so! My girls enjoy this recipe too.
My girls also LOVE stand 'n' fill tortillas for dinner.  We call them 'boats' in our house. The girls love to fill the tortillas to suit their own tastes – often with chicken, cheese and sour cream. I encourage some salad too.
You will find the tortillas in the international food aisle at your local grocery store.
As soon as I made these sour cream quiche tortillas, I had to try them. I ate 3 in one go. That's how delicious they were.
But don't take my word for it. Make some yourself and share what ingredients you use. I had wanted to use feta instead of parmesan, but I didn't have any on hand. This quiche can be tailored to whatever tastes you want and whatever you have in the fridge.
Bec Senyard
Tradie's Lunchbox – Sour Cream Quiche Tortillas
10 minPrep Time
20 minCook Time
30 minTotal Time
Ingredients
12 Pack stand n fill tortillas
3 Eggs
300ml Sour Cream
Sprigs of Chives & Parsley
Salt and Pepper
2 Cups of Pumpkin, diced and baked
1 Onion, caramelized
1/2 Cup parmesan cheese
Instructions
Turn oven on to 180 degrees Celsius, (160 if fan forced)
Beat 3 eggs and all the sour cream together.
Add salt and pepper.
Stand each tortilla on a baking tray.
Add baked pumpkin, caramelized onion, herbs and parmesan into the tortillas.
Pour the egg and sour cream mixture over the filling. Don't overfill, the quiches will rise.
Bake in oven for 20 minutes, or until set.
7.8.1.2
7
https://www.theplumbette.com.au/tradies-lunchbox/tradies-lunchbox-sour-cream-quiche-tortillas/