Whenever I share a salad recipe here, my dad sometimes gives me a dig, saying no one has time to chop up the food to make my recipes. And I understand, we're all pushed for time. But I know in myself, if I don't make time to create healthy salads in the fridge, I will make unhealthy, convenient food choices that won't necessarily fill me. So to heed the advice from my dad and also show how easy it is to eat a healthy salad with little prep, I came up with this delicious Southern Style Coleslaw with pretzels, cranberries and walnuts.
To make this salad you need to purchase a pre-packed coleslaw packet from Woolworths. The dressing is included in the pack. I didn't add the dressing until the extra ingredients were added to the salad.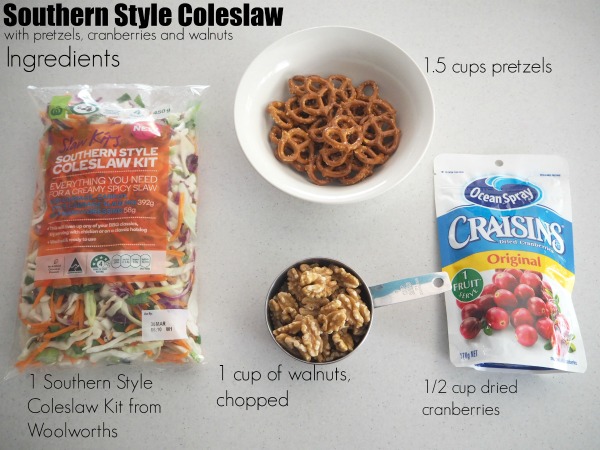 I have to admit this salad is YUM. I'd never considered adding pretzels with coleslaw before until I thought, why not? We add dried noodles to make other salads crunchy.
In this salad, the sweetness of the cranberries and saltiness of the pretzels works beautifully together with the southern style dressing. And there is a fresh crunch from the walnuts and pretzels.  It was very easy to make as it's simply putting all the ingredients together. You could almost make this salad at work, but would need to take the leftovers home, somehow.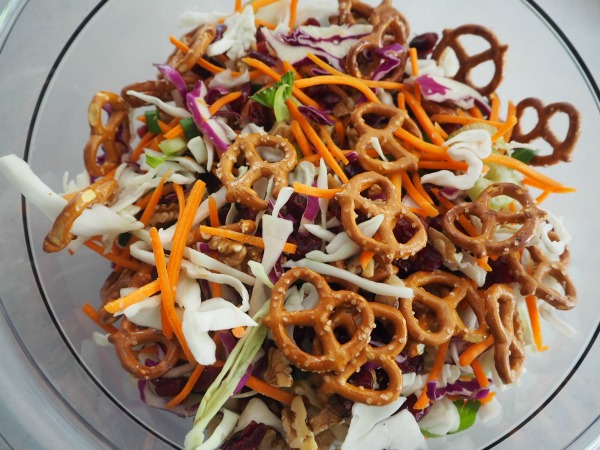 We always have pretzels in the house because my younger two girls DEVOUR them. I don't mind snacking on them too and find them quite moreish. I chose not to cut them, but sprinkled them whole into the salad. You can also use the stick pretzels instead of the knotted pretzels.
When you put them in the salad, make sure they are added right before serving as they will get soft if kept in the fridge.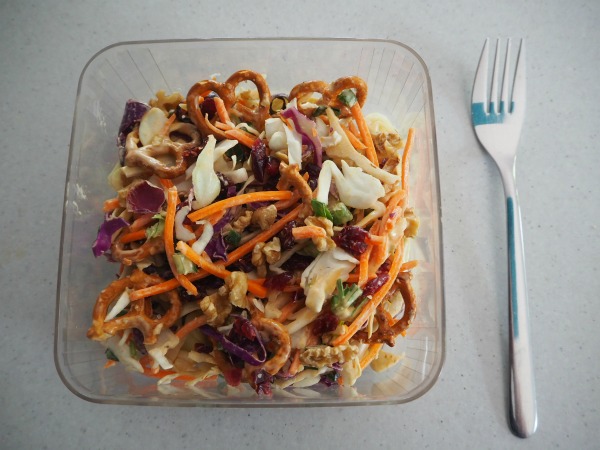 Bec Senyard
Tradie's Lunchbox – Southern Style Coleslaw with Pretzels, Cranberries & Walnuts
5 minPrep Time
5 minTotal Time
Ingredients
Packet of Southern Style Coleslaw
1 1/2 Cups of Pretzels
1/2 Cup of Cranberries
1 Cup of Walnuts, chopped
Instructions
Remove the dressing satchel from the coleslaw and empty the shredded vegetables into a bowl.
Add pretzels, cranberries and chopped walnuts to the salad and mix.
Mix in the southern style dressing.
Serve immediately.
Notes
Don't add pretzels until serving. If taking this salad to lunch, take a small container of the pretzels and add them when you're ready to eat your salad.
7.8.1.2
8
https://www.theplumbette.com.au/tradies-lunchbox/tradies-lunchbox-southern-style-coleslaw-pretzels-cranberries-walnuts/
If you liked this recipe, you may like this Crunchy Nut Salad Recipe.