This Spicy Chorizo, Tomato, Corn and Avocado Salad recipe is one of my favourite recipes so far for Tradie's Lunchbox. It's a hearty vegetable salad that keeps beautifully. If you want to add some carbs, add a crusty bread roll. Alternatively, you can use this salad in a wrap or use it in a burrito. Just change the chorizo to mince or crumbed chicken. Or even keep the chorizo for extra protein and 'spice'.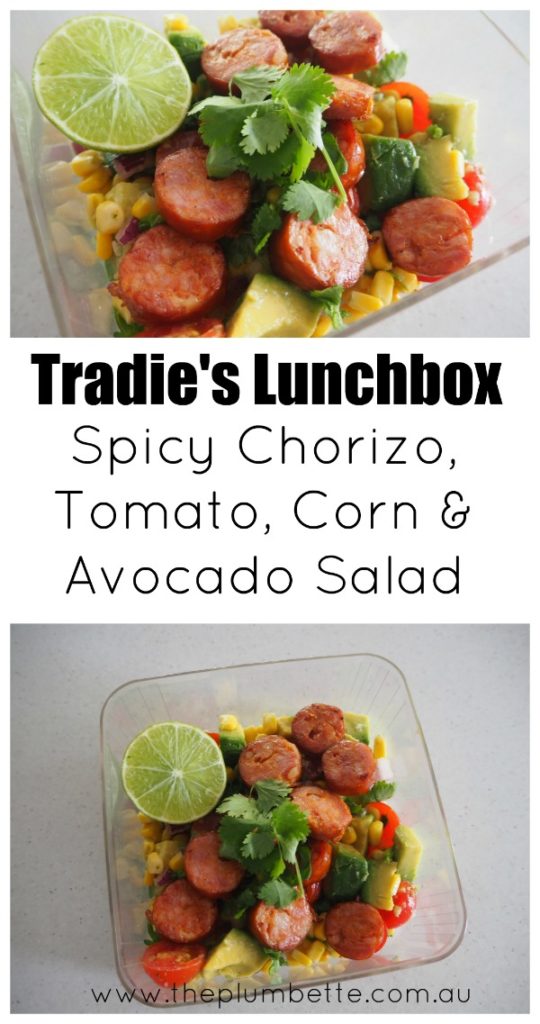 I have had one fail with a recipe last week that looked fantastic when taken from the oven, but didn't taste so good on its own. It was ideal for a tradie's lunchbox but the taste was quite bland. And lunch is an important meal of the day. Why waste it eating food that doesn't taste nice?
The Idea Behind Tradie's Lunchbox
Nevertheless, I'm enjoying creating these recipes because it's helped me have a healthy and filling lunch. I was notorious for munching on chocolate or a muesli bar for lunch to keep going so I could maximize Phoebe's nap time to get work done. I also know that buying lunch each day can be a drain on your finances.
Every week when I create these recipes, I test them in lunchboxes and my fridge to make sure they can be made ahead of time, and won't go soggy and limp if kept in the fridge or in an insulated cooler bag/esky.
This recipe works well because the lime juice keeps the avocado green and adds a delicious dressing to the salad itself.
Most of these recipes can be made to feed a crowd, but they taste just as good individually portioned to make filling a lunchbox easier.
You will notice I 'caramelized' the spicy chorizo in one of the photos. Pan fry the chorizo to your liking. I ate it both lightly pan fried and shall we say 'well done'. Both tasted sensational.
Bec Senyard
Tradie's Lunchbox – Spicy Chorizo, Tomato, Corn and Avocado Salad
10 minPrep Time
2 minCook Time
12 minTotal Time
Ingredients
1 lime
1 Sprig of coriander, chopped
1/4 teaspoon of minced garlic
1 cup of corn
1 firm, but ripe avocado
200gm cherry tomatoes, halved
1/4 of a red onion, diced
1 spicy chorizo sausage
1/4 teaspoon rice bran oil
Instructions
Slice the chorizo and lightly pan fry in rice bran oil, 1 minute each side - or as brown as you like. Remove excess oil by laying each piece on paper towel.
Cube avocado and mix it with the tomatoes, corn, onion, coriander and minced garlic.
Squeeze the juice of 1 lime over the salad. Leave one half (or quarter) to garnish the salad for extra dressing.
Layer the pan fried spicy chorizo on top
Notes
Pan fry chorizo to your liking.
7.8.1.2
5
https://www.theplumbette.com.au/tradies-lunchbox/tradies-lunchbox-spicy-chorizo-tomato-corn-avocado-salad/