If you're looking for a salad that's a little different, you need to try my Tangelo, Brie and Spinach Salad.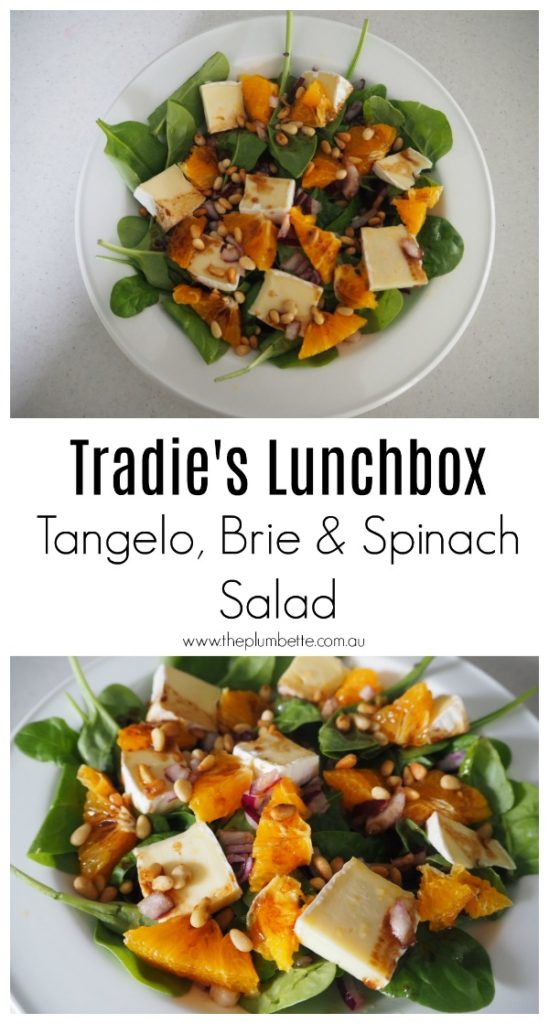 A week ago, when I did my grocery shopping, Woolworths had tangelos in their citrus fruit section. Being adventurous, I bought two to try.
Instead of eating them on their own, I decided to put them in a salad as I had spinach that needed to be used up and ¾ of a circle of brie cheese.
The salad was so delicious, I made it two nights in a row. I'm not sure if it was because of the different taste of the tangelo and brie together… but it was such a good combination, I had to share it.
I didn't put this salad in a lunchbox, as I had at home for dinner, but I think it would make a great salad for lunch or to take as a plate to share when you have to bring a plate to share.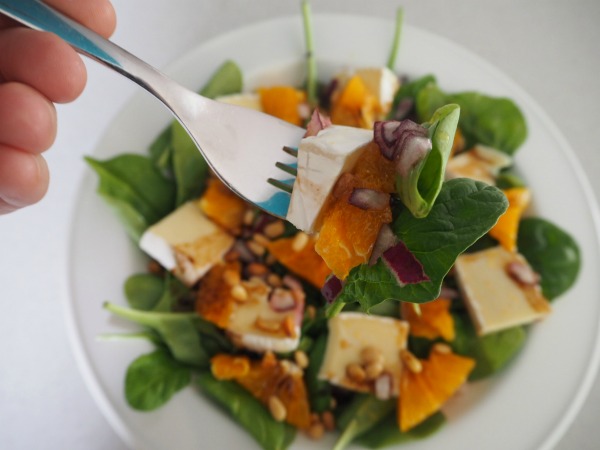 I added red onion, basil leaves and squeezed the juice left from the tangelo peel as part of the flavouring.
This summer, I'm committed to eating more salads and experiencing more variety in my fresh food intake. I find I often resort to the same fresh food ingredients. I'm hoping my plan of attack will see a few kilos lost and I will feel a bit less blah.
Tangelos are usually in season from July to October. If you aren't able to get tangelos for this salad, mandarin or orange would work just as well.
From my research online, tangelos are a hybrid fruit of an orange and grapefruit. They are sweet to taste and not bitter at all. I think they may be my favourite citrus fruit to eat. Such a shame I've only discovered them now at the end of their seasonal supply.
Bec Senyard
Yields 2
Tradie's Lunchbox – Tangelo, Brie and Spinach Salad
5 minPrep Time
5 minCook Time
10 minTotal Time
Ingredients
1 tangelo
4 handfuls of baby spinach leaves
1/4 red onion, diced
1 handful of basil leaves
100gm Brie cheese sliced thinly
1/3 cup of pine nuts, roasted
1 tablespoon of balsamic vinegar
1 tablespoon of olive oil
Instructions
Cut and peel tangelo, cut each segment in half
Layer spinach, basil leaves red onion, brie and tangelo
Sprinkle pine nuts
Mix balsamic vinegar and olive oil together and pour over salad
Squeeze juice from tangelo peels over salad.
7.8.1.2
20
https://www.theplumbette.com.au/tradies-lunchbox/tradies-lunchbox-tangelo-brie-spinach-salad/
Have you ever tried a Tangelo?  What is your favourite fruit to add to a salad?