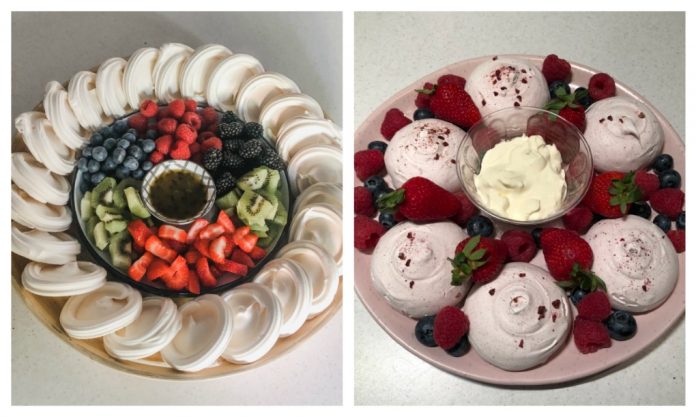 Got to bring dessert for Christmas lunch this year? Why not take a Transportable Pavlova Grazing Platter?! 
I'd love to say I can start a trend or identify an idea that will trend when I see one.
But I had to laugh when all the pavlova grazing platter posts came out last Christmas… because I had shared the same concept a year previous on my Instagram.
It could have been a trending idea already on Pinterest but most of my inspiration comes to me while I grocery shop alone.
The idea of a pavlova grazing plate came to me back in 2018.
My school mum friends organised a games night and I'm known for my platters, so I whipped up this pavlova grazing plate while we played the voting game. A game which I'm still reeling over after I learned what my friends voted I would do. And we still laugh about it two years later!
So when a get-together was organised on Saturday night, I offered to bring dessert and put together a Transportable Pavlova Grazing Platter.
How to make a transportable pavlova grazing platter
The key to making a grazing platter transportable is to keep wet and dry ingredients separate.
I didn't put the cream or wet topping ingredients on the platter (apart from passionfruit pulp) to prevent them from spilling. I kept them in the jars or containers they were bought in and created the platter as so.
When it comes to making individual pavlovas, I use the meringue nests which are found in the bread/baking aisle section at Woolies.  They are available all year round and they're sturdy enough to hold the toppings well.
The tray I used is from Kmart (no longer available but a platter with handles is ideal). A larger round white plate or tray can work just as well.
I placed all the meringue nests around the outside and placed a smaller plate in the middle with all the cut fruit. The plate would catch any fruit juices and prevent them from making the nests go soggy.  I also included a smaller dish for the passionfruit pulp.
In an esky, I transported the dollop cream, caramel sauce in a jar, lemon curd in a jar and I broke up flake chocolate in a container to sprinkle on top.
The pavs were a hit. I ended up making everyone a pav with their chosen topping while we sat around the table. That's not the idea of a grazing platter, but having all the ingredients on hand made it easy to entertain.
My favourite combination was cream, lemon curd and passionfruit! It was like a reverse lemon meringue pie. DELICIOUS!
If you're planning to travel this Christmas and you need to bring dessert, this is the perfect way to take a grazing platter. You could empty the sauce toppings into a sectioned Tupperware platter if you didn't want to bring the individual jars.
I know food prep these days is all about looking Instagram worthy… but a rustic affair is just as charming and I personally think practicality is important when transporting food – especially at Christmas.
Other Christmas Food Ideas
Gingerbread Ice Cream Sandwiches