Not sure how to choose the right bath for your bathroom? This comprehensive guide will assist you with your decision. 
This post has been written in collaboration with Decina
Choosing whether to include a bath in a bathroom can stir up quite the debate. For some, it's a fixture hardly used as the shower is much preferred. For others, it's a must have, especially for a family with young children. Here are some tips on how to choose the right bath for your bathroom.
The inclusion of a bath is a design decision based on space, lifestyle and budget.
A freestanding bath will typically be more expensive than a built in bath, but it's a trending fixture that can modernise a bathroom instantaneously. It can also add resale value to your property should you sell it in the future.
Once you've made the decision of including a bath in your bathroom, there are a variety of options to consider which may suit your layout.
Decina was shortlisted in the House of Home best bathtub awards for 2018, and they offer a variety of bath tub styles to choose from.
To choose the right bath for your bathroom, you need to know what styles are available.
Here are 8 Baths to Consider for your Bathroom
Freestanding Bath
Popular in design, the freestanding bath creates a focal point in the bathroom. While there are no limitations on where they are installed, these baths require adequate space around the bath for cleaning. A 150 to 300mm gap around the bath is advised to allow for easy access should anything be dropped out of the bath and also to get a vacuum and mop around the bath.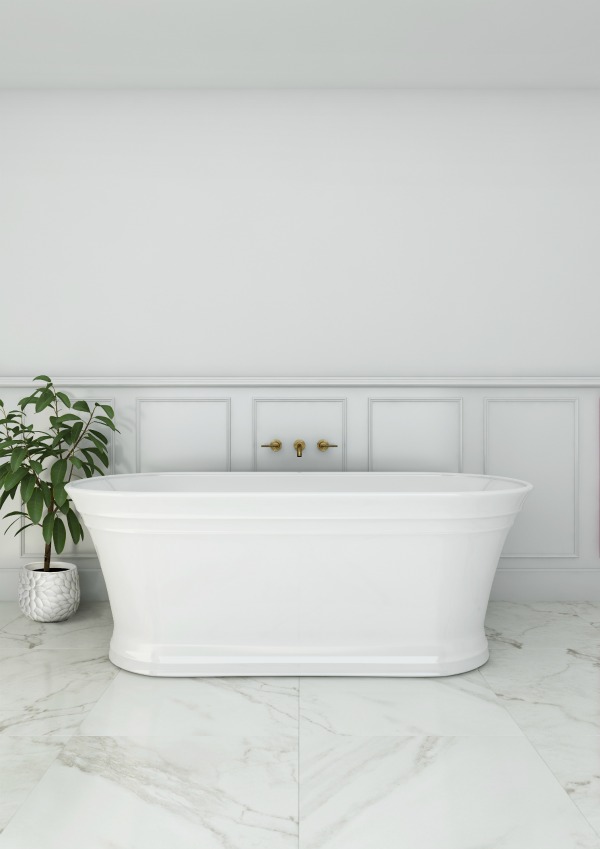 Freestanding baths can come in a variety of shapes and sizes to suit your bathroom layout. White is popular, but a black freestanding bath can certainly create interest in a plain bathroom. In fact matte black tapware pairs perfectly with a black freestanding bath. You can match the bath to your black tapware in the shower to create a cohesive look.
Freestanding Claw Foot Bath
A freestanding claw foot bath is a beautiful feature, which can also be installed anywhere within the bathroom. They are often placed against a wall and will require the same space allowance as above. Freestanding claw foot baths are more suited to heritage style bathrooms.
Many of the traditional claw foot baths are from steel or iron and can be quite cold to touch. While they can look magnificent in a bathroom, they can be quite expensive and the floor needs to be able to support their weight.
Back to Wall or Back to Corner Freestanding Bath
If space is limited in your bathroom, but you still love the freestanding look, a back to wall freestanding bath or back to corner style will be the best option.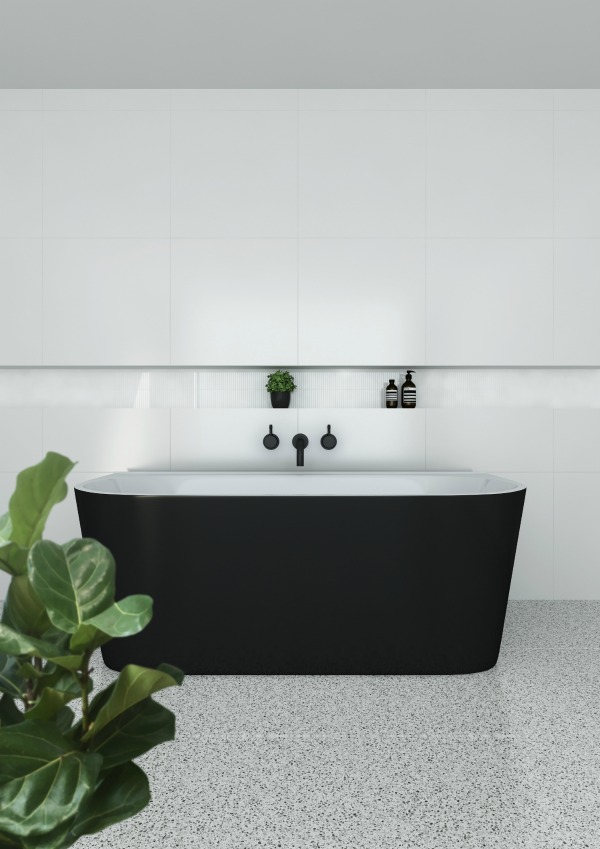 These baths will back against the tiled wall, so no need to worry about space allowance around the edge of the bath. Decina back to wall and corner baths have a tile bead so they can be checked into a tiled wall, creating a water tight seal around the edges. If it's not checked into the wall then the waterproofing must be applied to the wall behind the bath.
The corner freestanding bath can butt back into a corner, which may be a logical option if space is limited. The Natalia 1500 Back to Corner Freestanding bath offers corner surfaces for display storage.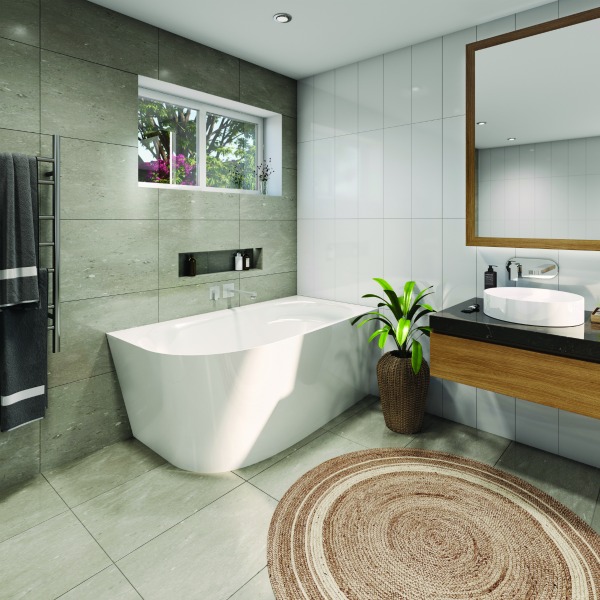 Inset Bath
The inset bath is most likely the type of bath you grew up with. It's been modernized with extra length and a variety of shapes to choose from. The inset bath is characterised by a tile bead around the edges so it can be built into a tiled wall, creating a water tight seal around the edges, with no gaps making it ideal for shower over bath combinations when space is tight.
Island Bath
An island bath is a bath that is built in like an inset bath, but it can be set away from the wall or positioned anywhere in the bathroom in its own hob. As its name suggests, it can be an island focal point in the bathroom, should your bathroom space be large enough to allow for it. This style of bath will have a tiled surface around the edge offering a ledge. This ledge is ideal for seating (great for parents with little kids!), holding toys or displaying candles and products for a styled space.
Shower Bath Combo
If your bathroom doesn't have enough space for both a shower and bath, combining the two together gives the best of both worlds. The most popular baths for a shower and bath combo are inset baths such as the Modena which is wider at one end and has an anti-slip pattern on the entry and exit zone. It can also be fitting with a glass panel shower screen.
The right bath option for this design will depend on the space and the usage of the fixture. For example, if the bath is simply to bath young children, the option of a smaller inset bath like the Azzuro may be adequate.
Spa Baths
Many desire a bathroom with a day spa feel. The incorporation of a spa bath can offer home owners hydrotherapy in their own bathroom. The bathroom is a place for relaxation and a spa bath can offer therapeutic benefits.
Spa baths are no longer the corner baths of old that would take quite a lot of space in the bathroom. They are available in freestanding or built in options depending on what will within your governed space for a bath. Decina can make your spa bath to order. Look at their spa bath checklist to find the right option for you.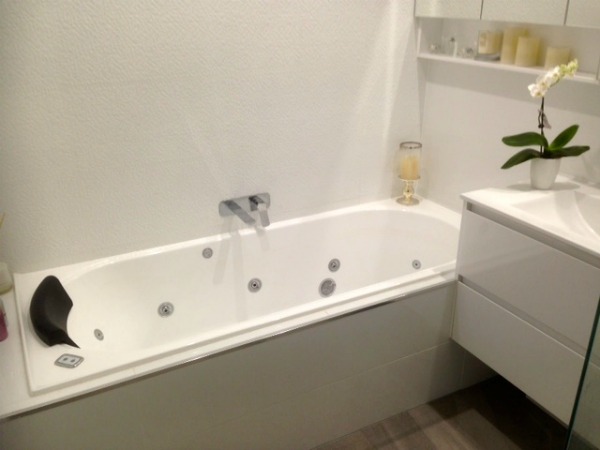 Bath Material
Baths are commonly manufactured from acrylic or steel. A pressed metal inset bath can be more affordable than an acrylic option. Both are durable, but steel is more scratch resistant. Acrylic retains heat better, making it an ideal choice for the purpose of soaking for relaxation. Affordability and style are what will determine which material you choose for your bath.
When it comes to choosing the right bath for your bathroom, why not check out the range from Decina? Their baths come in all shapes and sizes to suit your bathroom. Head here to check out the full range.
Do you feel more confident now in choosing the right bath for your bathroom? Which bath do you have in your bathroom?
Disclosure: This post has been written in accordance with my disclosure policy.